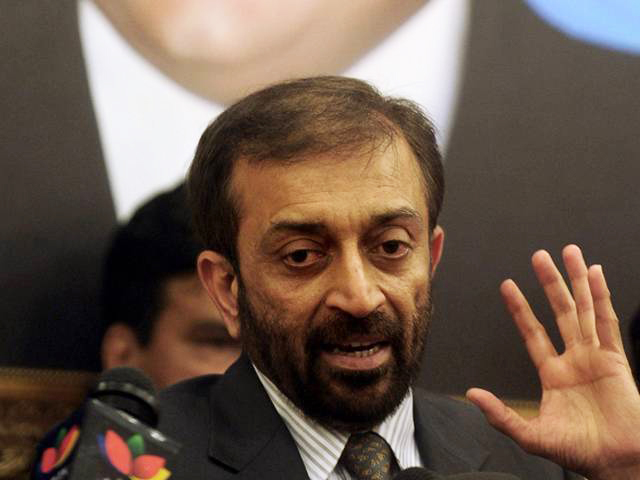 ---
This year, Eidul Azha will be a bit different for Karachiites.

In a surprising move, the Muttahida Qaumi Movement (MQM) has decided to halt all its welfare activities this year, including collection of hides of sacrificial animals.

Those who feared the arrival of 'party men' at their doorstep for the forced collection of hides need not worry this year as they are free to choose their recipients.

Karachi has witnessed significant violence during the collection of hides where political parties clashed with each other, leading to the deaths of their rivals and even the sacrificial animals.

Kamal claims Sattar, Governor Sindh waiting for Altaf's death to take over MQM

"We are reorganising the Khidmat-e-Khalq Foundation (KKF)," said MQM-Pakistan leader Farooq Sattar at a press conference on Saturday.

"Our workers were accused of snatching hides last Eid, while we were restrained from collecting Zakat and Fitra donations. [Thus] We are suspending all welfare activities and providing other organisations an opportunity to collect donations."

Filling the gap

The party's decision gives an opportunity to charitable organisations.

As the MQM appealed to its voters to donate hides to the Edhi Foundation, Sindh Institute of Urology and Transplantation, Indus Hospital, JDC Welfare Organization, Saylani Welfare Trust and Chhipa, the decision made heads of these organisations happy as they believed this would boost their collection ratio.

Saylani Welfare Trust, a prominent charity organisation, plans to collect a major chunk of the city's hides this year.

"We have established 19 offices in each town in Karachi where our volunteers would collect hides," said an employee of the organisation, Anis Lodhi.

"Those who want to give hides to us can deliver them to our offices otherwise they can call us and we will be at their doorstep but we will not go door-to-door ourselves."

Al-Khidmat Foundation of Jamaat-e-Islami claims that the number of hides is increasing each year since the Karachi operation began in 2013. "Last year, we collected 12.5 % more hides and we are hopeful this year the collection rate will be doubled," said an official of the foundation, Rashid.

The Ahle Sunnat Wal Jamaat (ASWJ) has also decided not to collect hides through a door-to-door campaign. "We have decided that we will not collect hides by establishing camps or going door-to-door," said ASWJ spokesperson Omar Mavia. "Those who want to give us hides are welcome. They can be delivered to our seminaries or offices."

Victimised

"Since the Karachi operation began, we are unable to collect the hides. Last year's example is enough to explain our problems," said MQM-Pakistan's Nasreen Jalil.  "The strict policy for us obviously benefits the banned militant outfits."

Unprofitable sale

Similar to last year, the Tanneries Association of Pakistan fears the rates of hides will go down this year.

The international market has been in crises for the last few years due to which the price of hides would be less than before, said the association's former chairperson Shaikh Afzal Hussain.

"Last year, the total business of hides was about Rs40 billion in Pakistan, of which 20% comes from Karachi. This time it would be less than last year's and the rates of hides would be cheaper," he added.

Cows' hides would be sold for Rs1,500, goat and sheeps' for Rs200 to Rs220 and since there are no buyers for camels' hides, their price would be Rs100 to Rs200.

Published in The Express Tribune, September 11th, 2016.
COMMENTS (9)
Comments are moderated and generally will be posted if they are on-topic and not abusive.
For more information, please see our Comments FAQ