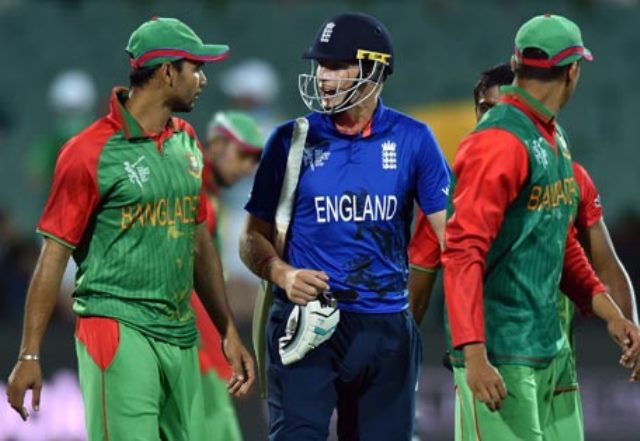 ---
DHAKA, BANGLADESH: Bangladesh made fresh assurances Friday that England's cricketers would be accorded top-level security on their controversial upcoming tour amid growing doubts over whether ODI skipper Eoin Morgan will travel.

The tour, which begins on September 30 and will include two Tests and three ODIs, had been called into question after an attack in July on a cafe in Dhaka in which 20 hostages were killed, including 18 foreigners.

However, the England and Wales Cricket Board (ECB) board gave it their go-ahead following a fact-finding visit to Bangladesh by their security expert and most of the players, including Test skipper Alistair Cook, are understood to be ready to make the trip.

Morgan opens up on Bangladesh security fears

The main question mark is over Morgan, who gave his strongest hint yet on Thursday that he will stay home as he recounted how two previous scares had made him weary of ever jeopardising his personal safety again.

Bangladesh Cricket Board (BCB) chief executive Nizamuddin Chowdhury said it was "the prerogative of the ECB who they will send" but made clear he would be disappointed if key players stayed away. "We just hope they will send the best available squad, which we expect to be competitive," Chowdhury told AFP.

Another senior board official, speaking on condition of anonymity, gave an outline of some of the measures being put in place to ensure the team's safety which are usually reserved for visiting heads of state.

While requesting that the details not be made public, the official said "there would be nothing to worry about" for the tourists.

Chowdhury recalled how the board had managed to stage a trouble-free Under-19 World Cup earlier this year by also beefing up security.

"As you all know some countries had expressed their concern during that tournament also. But we successfully managed to convince them to come here and hosted the tournament without any incident.

"England will be given the same security as we had during the tournament when additional measures were put in place," he said without elaborating.

Strauss issues Bangladesh deadline to England players

Australia pulled out of the Under-19 World Cup in January and their place was taken by Ireland.

Australia's senior team also pulled out of a series in October last year over safety fears and Bangladesh, the newest Test-playing nation, has been desperate to ensure that England does not follow their example.

They are determined to avoid the fate of Pakistan who -- apart from a lone series against Zimbabwe -- have not hosted any international cricket since gunmen attacked the Sri Lankan team bus during a 2009 Test in Lahore.

Although Morgan has yet to rule himself out, he has admitted that memories of a bomb blast during one of his matches in India in 2010 and a bout of deadly political violence while he was playing in a Bangladeshi domestic tournament three years ago were weighing heavily on his mind.
COMMENTS
Comments are moderated and generally will be posted if they are on-topic and not abusive.
For more information, please see our Comments FAQ