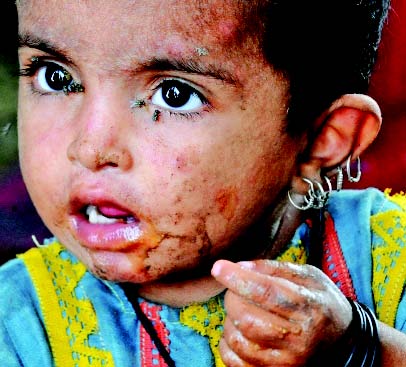 ---
KARACHI: Dozens of children lost consciousness on Saturday after eating expired vitamin A capsules, thinking that they were chewing gum.

The children excitedly grabbed the colourful capsules that were lying on the ground in a street in Saeedabad's Sector 9 and one by one fainted within hours. Their families rushed them to Civil Hospital, Karachi and the Ayub Memorial Hospital. Some of the children were identified as Sheno, 4, fiveyear- olds Pakhonda and Sadia, Waqas, 6, and eight-year-old Taqva.

Their parents told journalists that their children ate the capsules late Friday evening and their condition had deteriorated by Saturday. The father of one child, Muhammad Hasan, said the red capsules had been strewn across the street. The doctors said the children had eaten several capsules and they were admitted with complaints of headache and vomiting.

Two of the affected children also developed high blood pressure. EDO Health Dr Shahab Imam said that stern action would be taken against anyone found responsible. Baldia Town Health Officer Dr Arif Niaz said that the children were administered polio drops and vitamin A capsules last week. Sindh Health Minister Dr Sagheer Ahmed has constituted an investigation team, led by EDO Health Dr Shahab Imam and including Expanded Programme on Immunisation (EPI) deputy project director Rizwana Memon.

They have been tasked with submiting a report within three days. He has directed the team to find out where the capsules were brought from, why the capsules were thrown on the street during last week's polio campaign and who is responsible for endangering the lives of the children. During the government's anti-polio campaigns, vitamin A drops are also administered along with the anti-polio drops, to strengthen children as it is a food supplement. However, excess of vitamin A, as seen in this incident, results in vomiting and weakness.
COMMENTS
Comments are moderated and generally will be posted if they are on-topic and not abusive.
For more information, please see our Comments FAQ