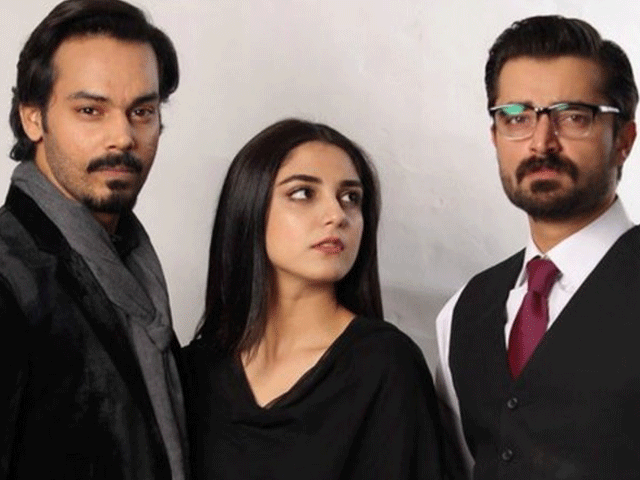 ---
Mann Mayal has been one of the most celebrated dramas after Humsafar and Zindagi Gulzar Hai so it was no surprise Twitter was in a frenzy when the finale aired last night. 

There has been incessant outrage over every move made by the characters since the drama started building up and finally after 33 episodes the finale was aired on Monday.

Don't judge my personality based on my on-screen characters: Gohar Rasheed

Hamza Ali Abbasi took to Facebook and thanked his viewers for all the love before the show went on air:


Needless to say, there have been many reactions to the ending and Twitter was abuzz with emotions:

While some questioned themselves

I've watched every single episode of #MannMayal

Will the Society accept me?

— Hammad (@EmmSeMasoom) September 5, 2016
Interviewer: what's ur tolerance level??

Me: I watched all episodes of #MannMayal 😢😢😢

Interviewer: Bsss kr paglay rulaye ga kia 😂😂

— Arsalan (@Arsal_Says) September 5, 2016
Congratulations team #mannmayal.. you tested our patience, we criticized you but still watched it & made it a trending topic, every week.

— a. (@izastweets10) September 5, 2016
Mann Mayal's latest episode leaves people fuming, even more than before
A few were appalled by the ending
What was that ending??? LMAO😂😂😂😂😂😂 Itni bhi buri nahi expect ki thi maine!! Chal jhoota, then bamm over😂😂😂😂😂😂😂😂😂😂 #MannMayal

— AYESHA (@ayeshA_Nausheen) September 5, 2016
33 weeks of our lives could be saved if Salahuddin would've open up his door for Mannu earlier. #MannMayal

— Politico (@RHNotion) September 5, 2016
I'd rather stare on wall for an hour instead of watching Mann Mayal. #MannMayal.

— نادیہ (@iNadiaKhurr) September 5, 2016
And some resorted to humour 
We protest against genocide of Jeena's Family , The Writer must be answerable to law #MannMayal

— Civil Obedient Farid (@faridmemonpsf) September 5, 2016
#MannMayal finally last episode
Feeling blessed with 18 crore awam😂😂😂

— Sarah (@sarashahid29) September 5, 2016
While there were those who declared their love for the show and the characters
I'll miss You badly my Bae 😭 @iamhamzaabbasi 😭#HamzaAliAbbasi #MannMayal 🎀💜🎀
Last Episode pic.twitter.com/kP8f7X01WB

— Mann Mayal⭐Club (@MayalMann) September 5, 2016
Will miss amazing OST more than the actual show! Take a bow QB!
#MannMayal

— Adeel Rana (@Adeel_Raana) September 5, 2016

Irrespective of the mixed reactions and expectations, Mann Mayal managed to create the stir which made characters like Jeena, Mannu, Salahuddin and Mikael a household name.

Here's to hoping the growth of Pakistani dramas never comes to a halt.

Have something to add to this story? Share it in the comments.
COMMENTS (6)
Comments are moderated and generally will be posted if they are on-topic and not abusive.
For more information, please see our Comments FAQ