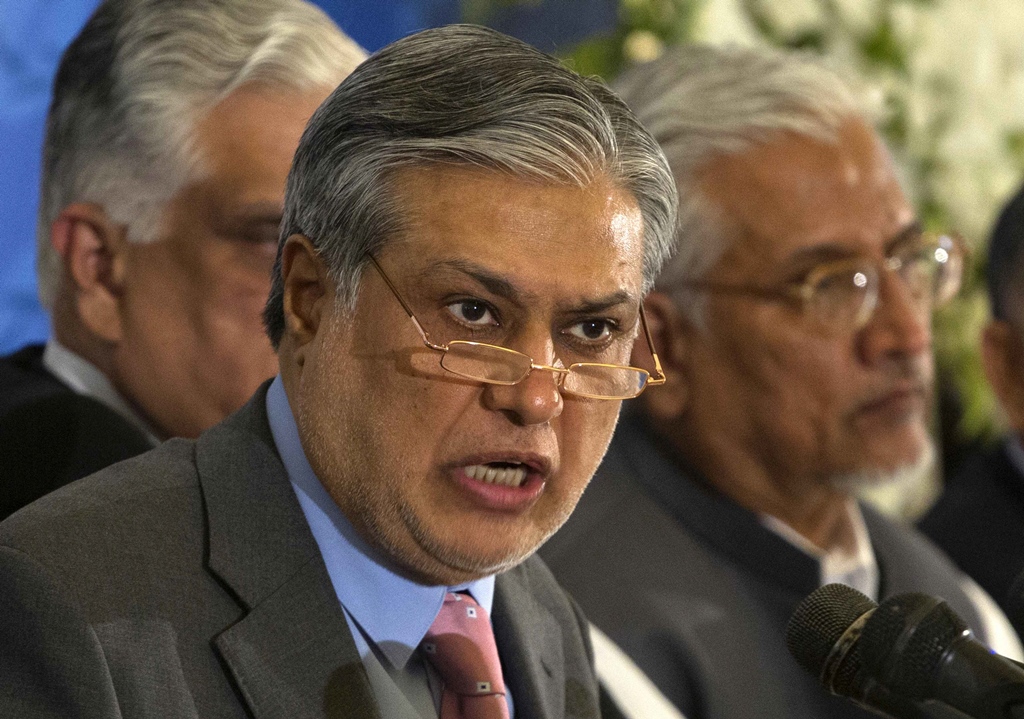 ---
KARACHI: After experiencing privatisation over the past decades, this time around the government of Prime Minister Nawaz Sharif is all set for Islamisation of the entire economic system of the country.

"We need to change our perception (about Islamic financing) and invest in research as a core ingredient of our strategic objective which is to Islamise the whole economic system," said Federal Finance Minister Ishaq Dar.

Officials stress on growth of Islamic banking in Pakistan

He was addressing the World Islamic Finance Forum organised by the Centre for Excellence in Islamic Finance, IBA, in partnership with academia, research houses and Islamic banks.

"Islamic finance industry leaders and others should play an active role in promoting this industry to be successful in this world and in the one hereafter," he said, adding "we as Muslims must avoid Riba (interest on lending money)."

Dar said the industry should not remain complacent with the traditional model and methodology. "Things change gradually. Let us help our Islamic finance industry evolve as well. We need to make a resolve to innovate products based on Shariah compliance."

Dar said though Islamic finance had been around for the last five decades, it got more attention only after the 2008 global financial crisis.

Extending full support to the industry, the minister said the government had instructed the Ministry of Finance to approach Islamic banks whenever they were in need of raising funds for development work. "The tax treatment of Sukuk (Islamic bonds) was brought on a par with conventional bonds on August 21 through the promulgation of an ordinance in order to support the issuance of and investment in Sukuk," he said.

He quoted former UK prime minister David Cameron talking him the other day, saying, "this industry is going to lead conventional banks in due course in a decade or so."

Dar said economic growth in Pakistan had crossed 4% and had remained steady at 5% this year. "This growth rate will accelerate to 7% in fiscal year 2017-18."

Later referring to a BBC report, he said Pakistan would become the 18th largest economy of the world by 2050 from the current 44th position.

Malaysia replaces Pakistan as leader in Islamic banking, finance

State Bank of Pakistan Governor Ashraf Mahmood Wathra said the Islamic finance industry was growing at a rapid pace across the world. "The global Islamic finance industry was worth $1.8 billion in 2015 from a mere $150 million in the 1990s; its assets are estimated to reach $6.5 billion by 2020," he said.

Wathra said Asia played a key role in advancing the Islamic finance industry and according to the Islamic Development Bank's report in 2015, Pakistan remained a potential leader.

"The Islamic finance industry should not be built as an alternative or parallel to the conventional banking industry, rather, it should be promoted with the prime objective of making the economy interest-free," said Meezan Bank Shariah Board Chairman Mufti Muhammad Taqi Usmani.

The speakers said Islamic banking was all about sharing risks instead of transferring or shifting risks to others.

Published in The Express Tribune, September 6th, 2016.

Like Business on Facebook, follow @TribuneBiz on Twitter to stay informed and join in the conversation.