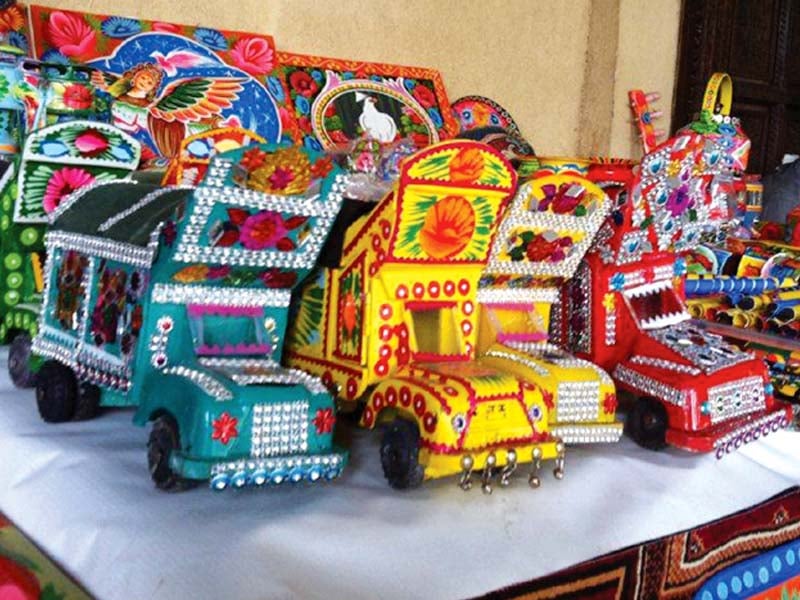 ---
ISLAMABAD: A workshop on truck art started here Lok Virsa on Monday.

The workshop on "Truck art: engagement with artisans'' is part of the Lok Virsa's ' craft of the month' programme that aims at promoting indigenous folk crafts ,reviving dying traditional skills and inculcating knowledge among the younger generation.

The Federal Directorate of Education (FDE) and the Directorate General for Special Education are also collaborating with the Lok Virsa by nominating their students for participation in the ongoing workshop.

An amalgamation of art and poetry was displayed on the exterior of trucks is a true representation of Pakistani culture.

An art gallery official said, "I have seen many tourists who visit Pakistan who is often captivated by the eye-catching attire of truck art."

We decided to create a replica of the truck as well as crafting it on small trucks for foreigners and this would not only represent our cultural heritage but spread our art to every corner of the world, he said.

Furthermore, the exhibition also included truck art painted on a variety of domestic appliances such as plates, pots, mugs, and kettles.

The art on the appliances illustrated the traditional attire of Pakistani women along with national monuments.

The exhibition will continue till September 9.

Published in The Express Tribune, September 6th, 2016.