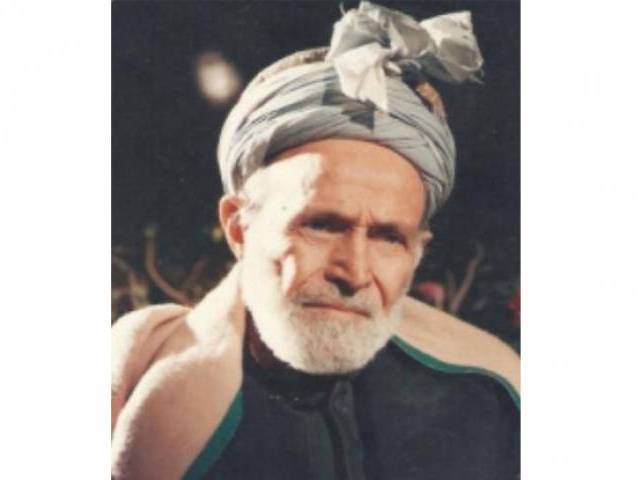 ---
PESHAWAR: Senior Pashto poet Kalimullah Kalim Shinwari has acquired his doctorate about the Sufi thoughts in Pashto ghazal legend Ameer Hamza Khan Shinwari's poetry, from Pashto Academy at University of Peshawar.

Although Shinwari is only a high schoolteacher, he has struggled for years to complete his study on the work of the Hamza Baba, one of the prolific poets of modern times. He believes that highlighting the relevance of Hamza Baba's Sufi thoughts is the need of these turbulent times.

Hamza Baba is known as Baba-e-Ghazal, who has written around 40 books both in Urdu and Pashto and had contributed to all known literary genres of Pashto literature.

"Although Hamza Baba was a proponent of Ibn-i-Araba's Sufi ideas, he amalgamated the concept of Pakhtun nationalism of Khushal Khan Khattak and Sufi thoughts of Rahman Baba for the practical use of modern-day Pukhtuns," Kalim Shinwari said.

He worked on the aspect of mystical thoughts in Hamza Baba's poetry. He added, "Baba was greatly influenced by the ideas of Shaikh-i-Akbar Mohi-ud-Din Ibn-i-Arabi, a great mystic, philosopher and poet born and lived in the 12th Century."

He said Hamza Baba considered Islam and Pakhtunwali as flip sides of a coin and negated aggressive nationalism in his writings. Shinwari added Hamza Baba wanted Pukhtuns to maintain their true identity and uphold high social and moral values to safeguard humanity against all kinds of prejudices. "The concept of 'ideal Pukhtun' in Baba's wittings was in fact the embodiment of his Sufi thoughts," Shinwari said.

"It was during a visit to Ajmer Sharif that he first came into contact with the world of mysticism," Shinwari said.

He emphasised the need for more research on life and work of legendary poets and writers and added that it would help to resolve many deep and difficult issues in classical and modern poetry, fiction and prose. "Teaching Hamza Baba's poetry with Sufi terms and ideas was always a challenge, but the method helps to understand Baba's poetry in better way," he explained.

Published in The Express Tribune, September 3rd, 2016.
COMMENTS
Comments are moderated and generally will be posted if they are on-topic and not abusive.
For more information, please see our Comments FAQ