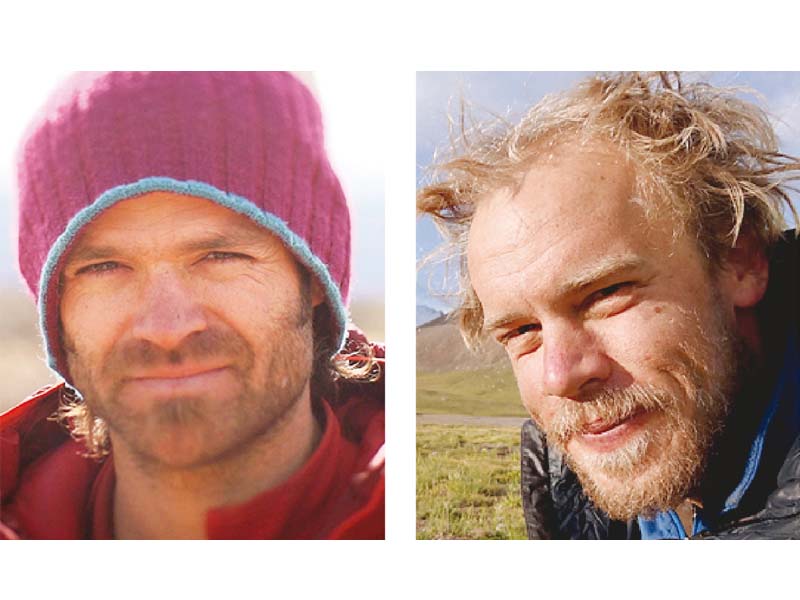 ---
GILGIT: Two US mountaineers, who went missing earlier this week, are out of contact and are now feared dead, said mountaineers and tour operators on Thursday.

Kyle Dempster and Scott Adamson began their ascent of the 7,285-metre Ogre-II peak near K-2 in Gilgit-Baltistan on August 21. "They can't be contacted despite various attempts," said Iqbal, a tour operator.

Nepal bans Indian police couple for faking Everest climb

"We are praying for their safe return, but that seems least likely now,' Iqbal told reporters. The two climbers could not have gone much longer without food and extreme climate conditions.

They were supposed to descend after climbing the summit within five days as they had a week's ration but that hasn't happened, he added. The tour was organised by Active Tours Pakistan. A search operation is to be launched with the help of the army.

Scaling mountains: If I can do it so can you, says Samina Baig

An assistant director in Gilgit-Baltistan's tourism department said a guide Abdul Gafoor was with them, adding he was also not approachable. "We will come to know the details, once the guide is back," said the officials.

More than 300 reindeer killed by lightning in Norway

G-B is dubbed a magnet for mountaineers as it is home to some of the tallest mountains in the world, including K2 — at 8,611 metres.

Nestled between the western end of the Himalayas, the Hindu Kush mountains and the Karakoram range, Gilgit-Baltistan houses 18 of the world's 50 highest peaks.

It is also home to three of the world's seven longest glaciers outside the polar regions. Hundreds of its mountains have never been climbed. 

Published in The Express Tribune, September 2nd, 2016.
COMMENTS (4)
Comments are moderated and generally will be posted if they are on-topic and not abusive.
For more information, please see our Comments FAQ