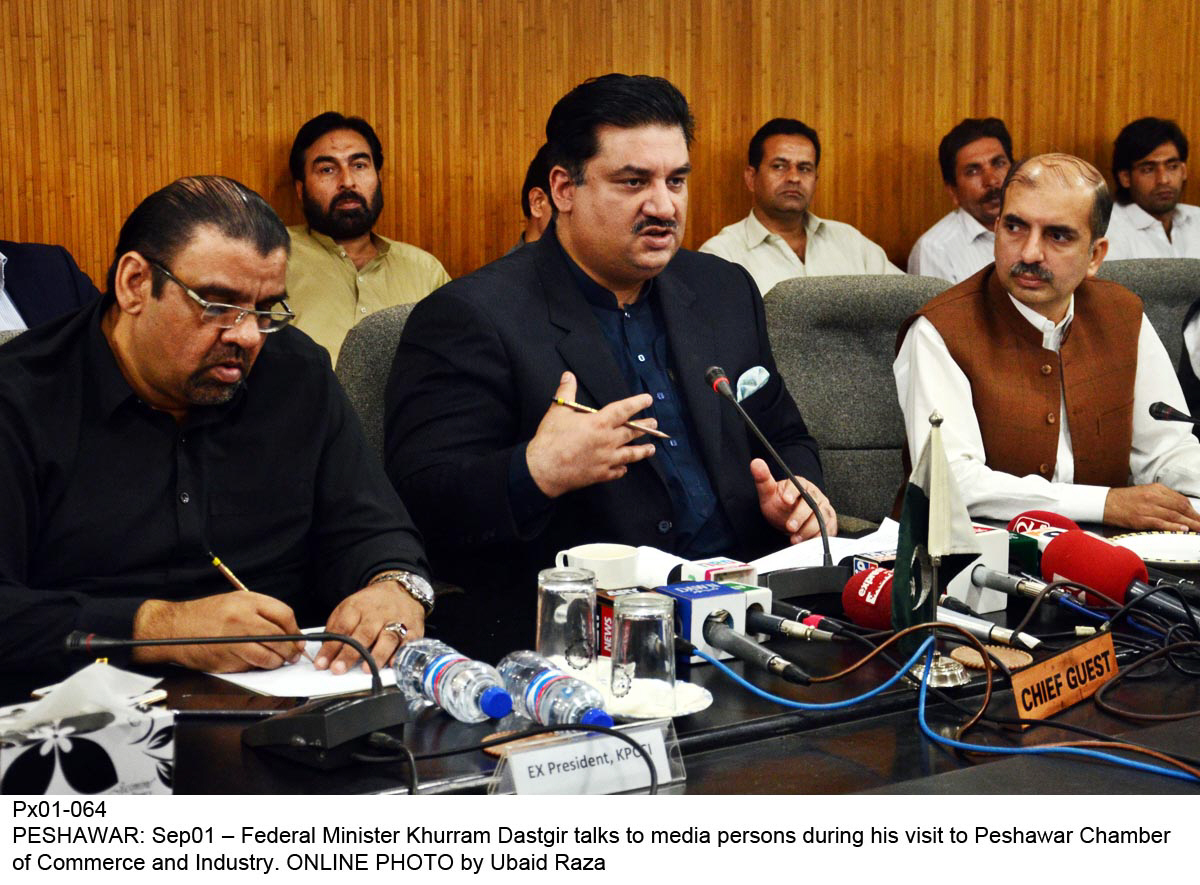 ---
PESHAWAR: Land has been acquired to establish an expo centre in the city. This was said by Federal Minister for Commerce Khurram Dastagir. The minister expressed these views while speaking to traders at Khyber-Pakhtunkhwa Chamber of Commerce and Industry (KPCCI) on Thursday.

He added a new land port will also be constructed in Torkham that will facilitate trade, especially between K-P and Afghanistan. Dastagir said a similar port will also be set up in Chaman.

"We want to enhance trade relations with Afghanistan, but received very little response from their side," he said. "We have offered them to revive the Preferential Trade Agreement (PTA). So far, we have received no response from them."

The minister said if the government of Afghanistan is not interested in tripartite agreement, Pakistan will sign the deal with Tajikistan through China.




Dastagir said plans for an expo centre, which was a key demand of traders, has been finalised and the land has been acquired. He said the prime minister will soon inaugurate it.

Meanwhile, the traders of the province informed the federal minister of the problems being faced by them and the opportunities they have missed due to the wave of instability that has destroyed the infrastructure of the province.

This was Dastagir's third visit to KPCCI but the traders said that none of the promises made by the federal minister in the past have been fulfilled.

On the occasion, KPCCI President Zulfiqar Ali Khan said federal ministers always hesitated to visit Peshawar.

He urged the federal government to help the provinces deal with the crisis faced by K-P in promoting its economy and attracting foreign investors.

He added the Pak-Afghan transit trade agreement, which was signed in 2010, also needed attention to promote trade with Afghanistan.

The KPCCI president asked the federal minister to help improve ties with Afghanistan as it is the country which could help traders access markets in central Asia.

Zulfiqar Ali also urged traders to pay 4.2% export duty surcharge. He demanded funds should also be spent on the projects and export development of the province.



Published in The Express Tribune, September 2nd, 2016.
COMMENTS
Comments are moderated and generally will be posted if they are on-topic and not abusive.
For more information, please see our Comments FAQ