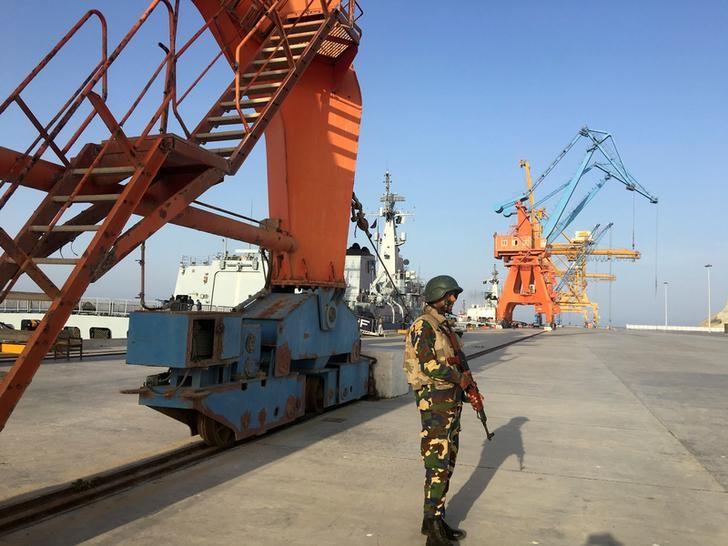 ---
On July 5, 2013, a memorandum of understanding (MoU) on the China-Pakistan Economic Corridor (CPEC) was signed between the governments of China and Pakistan on the occasion of Prime Minister Nawaz Sharif's first foreign visit after assuming power. The Ministry of Planning, Development & Reform of Pakistan and the National Development and Reform Commission of China were entrusted the responsibility of translating the vision of their respective leaderships into reality. Within a year that MoU was turned into an understanding on a portfolio of Chinese investment of $46 billion in various projects. Besides this, a significant commitment was made by Pakistan from its resources for CPEC-related projects. Within a short span of three years, despite a loss of eight months due to domestic political crises, projects worth $18 billion have been actualised. Moreover, investment projects worth $17 billion are in the pipeline with completing formalities to be launched within a year or so. This is a remarkable story of devotion, commitment and hard work of Pakistani and Chinese colleagues who are involved in the CPEC.

'CPEC's western route to be ready by 2018'

When others were writing off Pakistan as an economic partner, China showed trust in us and Pakistan has always cherished its friendly ties with China. But the CPEC is going to turn this friendship into a strategic economic partnership. In 2014, there were 12 other countries that were investing more in Pakistan in terms of foreign direct investment (FDI) than China. Today Chinese FDI in Pakistan has reached the number one spot.

The CPEC is going to serve as a gateway for trade not only for China and Pakistan, but for the whole region. Better connectivity in the region is going to improve trade among Pakistan, China, Iran, Afghanistan and the Central Asian Republics. No country in the region should feel threatened by the CPEC as everyone in the region would benefit from it due to enhanced economic activity and trade. Pakistan envisages the CPEC as a peace-enabler because when connectivity and trade increases between countries, they tend to avoid conflicts. Thus it is not a hyperbole to regard the CPEC as a game changer for Pakistan and South Asia.

At the same time, we should not get complacent. Previously we have missed golden economic opportunities. In the 1960s, Pakistan was provided with a chance to revolutionise its agriculture via seeds of high-yield varieties. This was so promising that it was dubbed as the 'green revolution'. Pakistan did in fact increase its agricultural output after the introduction of these high-yield varieties. But the gains were moderate at best. The key constraint was that advantages of new technologies were not widespread. Small landholders in particular and remote parts of Pakistan in general, could not benefit from green revolution technologies.  On the other hand, countries of East Asia used the same technologies to transform their economic journey. The likes of South Korea and Taiwan produced massive surpluses in their agriculture sectors. They effectively channeled that surplus towards industrialisation.

Pakistan has been provided with a golden opportunity -- the CPEC. It has all the right ingredients to transform the country's socioeconomic landscape. Now it is time for every Pakistani to realise the importance of this project. Every one of us needs to chip in with our unique contribution to make it a success story and a case study for the rest of the world. Among other things the desideratum, of an advanced industrialised economy are infrastructure and energy. Pakistan is currently facing huge deficits in both areas. Thus it is in our immediate interest to build new infrastructure and reduce energy deficits. Moreover, inclusive growth, which is integral for sustainable peace and prosperity, cannot be realised without industrialisation. In order to industrialise, a developing country requires investment in infrastructure and energy to support and facilitate production, distribution and exchange of goods and services. Investments in infrastructure and energy require huge sums of capital. Furthermore, the dividends of these projects mature in the medium to long run. Less-developed countries like Pakistan have capital constraints so it puts them in a catch-22 situation. On the one hand, it is quintessential that a less-developed economy undertake large-scale investments but on the other hand due to scarcity of capital and low human development, these countries can't afford to allocate all resources towards infrastructure and energy. An effective and pragmatic policy has to consider these trade-offs.

Controversy over CPEC: K-P, FATA residents threaten protest outside Chinese Embassy 

Another key aspect that less-developed countries needs to be wary of is the uneven development within a country. Capital (investment) goes to places where it can amass the highest rate of return. Remote and under-developed parts of a country do not have networks of forward and backward linkages. As a result, returns to capital would be low in those places. Thus capital would go to places which already have some level of infrastructure in place. This reinforces uneven development and it leads to social conflict in a society.

Being cognisant of these factors, our government has taken up a daunting task i.e., to spur economic growth in concurrence with lifting historically marginalised and disadvantaged areas. In Vision 2025 we stipulated 'inclusive and sustainable economic growth' as our way forward. The conceptualisation and actualisation of the CPEC's western route is a testimonial to our commitment towards materialisation of inclusive and sustainable growth in Pakistan. By taking fruits of development to under-developed areas, the CPEC will not only fulfill the huge gaps in infrastructure and energy needs, it will also empower historically disadvantaged people and places of Pakistan including Balochistan, Khyber-Pakhtunkhwa and Gilgit-Baltistan.

The transport route of CPEC is going to connect Kashgar (China) to Gwadar Port (Pakistan) via three alignments, western, central & eastern, which pass through all provinces. The rail network will be upgraded and modernised with Peshawar-Karachi ML1 in the first phase, on which speed of trains will increase from 80km/hr to 160km/hr. Besides the rail network will be expanded towards Gwadar and Quetta to be linked with Peshawar. All infrastructure projects are on concessional terms with the Chinese government proposing a panel of three reputed firms, with the lowest bidder getting the contract.

On the energy front, more than $35 billion are in IPP mode. These are private sector investments coming under our energy policy, which is open for all. These projects would not only reduce our energy deficit but is also going to bring down the cost of generation with cheaper power. After 70 years, the CPEC is harnessing the commercial potential of our indigenous coal in Thar to produce electricity.

Gwadar is a gateway for the CPEC. It is changing rapidly and it is going to be one of the most robust cities of Pakistan in the future. A new port, airport, expressway, technical college, hospital, university, city infrastructure, and water projects etc. are some of the concrete changes Gwadar is and will be experiencing. Economic activity has already accelerated multifold. By the end of this year, Gwadar will be connected with Quetta via Sorab and with Sukkur via Khuzdar bringing connectivity to the most underdeveloped areas of Balochistan with the rest of the country. DI Khan will be connected with KKH via a new route agreed in the All Parties Conference. On the other end of the CPEC, GB will be transformed into a model of new eco-economy bringing prosperity for people while safeguarding its rich environment.

'Federal govt has dodged Chinese govt over CPEC'

These infrastructure and energy sector projects are government-led initiatives. But when it comes to industrial cooperation between the two countries, both recognise that private business initiatives are highly important. Therefore, business-to-business networks between Chinese and Pakistani counterparts are an integral aspect of the CPEC. Joint ventures between private enterprises of both countries would be key to expanding the frontiers of innovation, technology and trade. To synchronise the economic and business needs of both countries, industrial and special economic zones are going to be established in every province. The CPEC-Summit taking place today in Islamabad is a first major initiative in this regard. The key to the CPEC's success is a broader consensus among all major stakeholders. Everyone was heard out and if anyone had any concerns, those were addressed immediately. Unlike previous mega-projects, the CPEC is inclusive, based on the welfare of historically disadvantaged areas. This makes its continuous and long-term success our nation's first and foremost priority.

Published in The Express Tribune, August 29th, 2016.

Like Opinion & Editorial on Facebook, follow @ETOpEd on Twitter to receive all updates on all our daily pieces.
COMMENTS (24)
Comments are moderated and generally will be posted if they are on-topic and not abusive.
For more information, please see our Comments FAQ