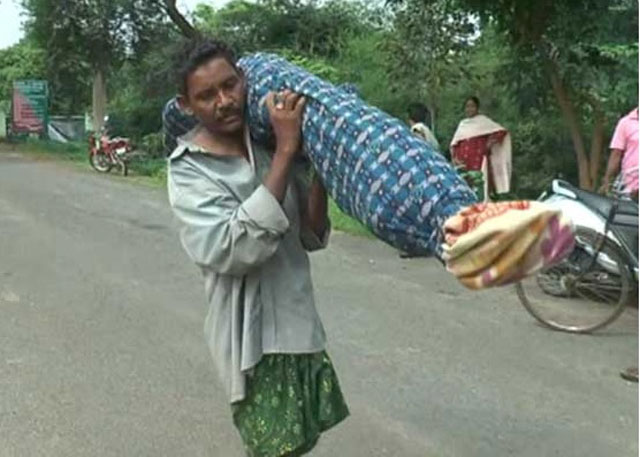 ---
Failing to get a vehicle, an Indian man walked 10 kilometres with the body of his deceased wife to return to his village.

Distressing footage showed Dana Majhi carrying his late wife's body on his shoulder as he walked through his home city of Bhubaneswar along with his weeping daughter. With no transport available and no money Majhi and his 12-year-old daughter had to walk 10 kilometres before an ambulance was arranged for the family's remaining 60 kilometre journey.

Mother in Japan questioned after 4 children found dead

According to media reports, Majhi told the hospital about his situation. "I told hospital authorities that I am a poor man and cannot afford a vehicle. I kept requesting them but they said they could not help," he said. Left with no other option, Majhi then wrapped his wife in several layers of cloth for the journey.

Peshawar doctors remove hair clips, pins from patient's stomach

Addressing the matter, MP Kalikesh Singh Deo of the state's ruling Biju Janata Dal tweeted," I have already asked the local minister to verify this and take appropriate action." Further, Kalahandi DC Brunda D said, "As we got to know of the incident, we arranged for an ambulance.

Majhi's 42-year-old spouse died of tuberculosis on Tuesday night at a Kalahandi hospital.

This article originally appeared on Mirror.
COMMENTS (3)
Comments are moderated and generally will be posted if they are on-topic and not abusive.
For more information, please see our Comments FAQ