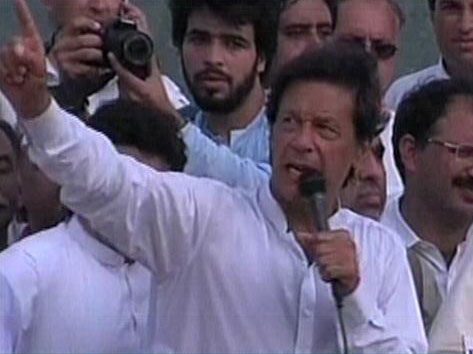 ---
Pakistan Tehreek-e-Insaf (PTI) chairman has announced to march towards Lahore to boost the party's anti-corruption drive, saying the rulers will not be spared until they are held accountable for their alleged offshore wealth.

"We will be approaching Lahore on September 3 and the Supreme Court next week to make Nawaz Sharif answerable for the wealth exposed by Panama Papers," Imran Khan said while addressing a procession in Chakdara, Swat on Thursday.

The PTI chairman inaugurated Swat Motorway in the area as he was accompanied by other party leaders.

Leaked documents from the Mossack Fonseca law firm in Panama last month showed several world leaders, including the premier's three children – sons, Hassan and Hussain, and his daughter, Maryam – owning at least three offshore holding companies registered in the British Virgin Islands.

Imran calls one-on-one meeting with disgruntled lawmakers

"This nation will continue to hold you accountable and will bring all the money looted from the country," he said, reiterated that a corrupt ruler always had corrupt subordinates, causing 'destruction' of national institutions.

He claimed institutions, school and even the police in Khyber-Pakhtunkhwa (K-P) were free of political pressure while systematic efforts were being made to rid the province of corruption completely.

Whosoever unearthing corruption in the province will be rewarded with a rightful 30 per cent share from the money recovered, added the cricketer-turned politician.

'PTI will soon come into power'

Imran went on to challenge the federal government to bring about any evidence of a major corruption in K-P, and urged the rulers to establish similar anti-graft bodies as prevalent in the province.

The government and opposition parties have so far failed to adopt joint Terms of Reference (ToRs), deemed necessary by a judicial commission of the Supreme Court to investigate the leaks.
COMMENTS (13)
Comments are moderated and generally will be posted if they are on-topic and not abusive.
For more information, please see our Comments FAQ