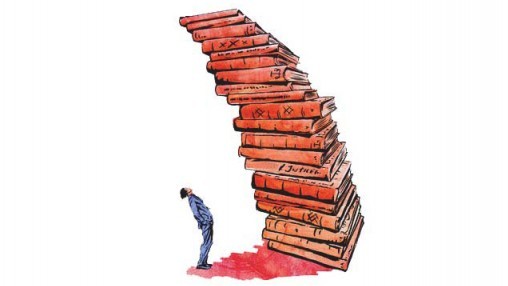 ---
I suspect I may be the only person out there to whom the Icelandic ash cloud has shown great kindness. I arrived in London well in advance of the 39th London Book Fair (LBF), having escaped Paris on the Eurostar the day things erupted. For a bookseller the LBF provides a unique opportunity to peruse titles from various publishers for the upcoming season and to strike the odd lucrative deal if you're lucky. This was my third year in attendance as the owner of a small book business in Pakistan and, needless to say, I was becoming accustomed to being treated like small fry. This was about to change.

As the fair drew closer, it began to dawn on me that the disruption to flights thanks to Eyjafjallajokull was likely to have an impact on the rest of the attendees, but then again one never knows quite what to expect. Come Monday April 19, 2010, Earls Court Exhibition Hall is virtually empty of traffic. Employees of UK publishers, who now make up the bulk of the fair, sit about their stalls like working girls at an Amsterdam shop front, coveting their neighbours' few remaining appointments. Publishers smile, nod, grasp my hand between both of theirs, and generally make deals they perhaps wouldn't have at other times. Thank you, volcanic ash, thank you.

Not everyone saw things my way, of course. A major function of the LBF is to highlight a different region or country's publishing industry each year. By mid-morning it became clear that the opportunity which had been accorded to South Africa this year was destined to pass them by as their pavilion lay empty of books, material and staff.

Naturally, the projected events, lectures and talks that usually pepper the three-day fair were doomed by the absence of either the speaker/s or the audience. Random House, one of the UK's biggest publishing companies, was forced to cancel a private inaugural event at which Tony Blair was to discuss his memoirs because the former prime minister was stranded in the Middle East. I myself had received a handful of last minute invitations to join publishers for dinner with their star authors (crime writer Ian Rankin being the most prominent among them), but could not bear for my presence to remind them that they were scraping the bottom of the proverbial barrel.

Having determined the atmosphere as being uncharacteristically conducive to the needs of a small bookseller, I set about navigating the various booths to make my selection for the coming months. This is by far the hardest job, and the best advice I can offer is to follow your gut. One criterion often used for selection is 'trends', but one should bear in mind, there is a fine line between truly engaging subject matter with high quality output, and a publisher's attempt to replicate the success of a formula. Case in point: for the third year in a row I was bombarded with 'Vampire' Fiction, now a fully-fledged genre thanks to the success of Twilight, the Sookie Stackhouse novels and The Vampire Diaries. Zombies seem to be hot too, but in my opinion unlikely to develop into a genre for lack of sexual undertones, which were intrinsic to the success of vampires. Swedish thrillers appear to be exceedingly bankable thanks to the multimillion selling Millennium Trilogy by Steig Larson and the enduring popularity of Henning Mankell. And so, one of the most anticipated releases this year is Harbour by John Ajvide Lindqvist, the man behind Let the Right One In (2007) a Swedish thriller about vampires, and Handling the Dead (2009) a Swedish thriller about zombies.

It's possible you may be on to something if you follow a trend but I prefer the more personal approach. What do I like? And to be honest there is nothing I like more than to trawl through stacks and stacks of new books, on every possible subject, undisturbed for three whole days, with publishers ready to assist me on my terms. It's what made the 39th London Book Fair perhaps the most enjoyable book fair ever...for me at any rate.