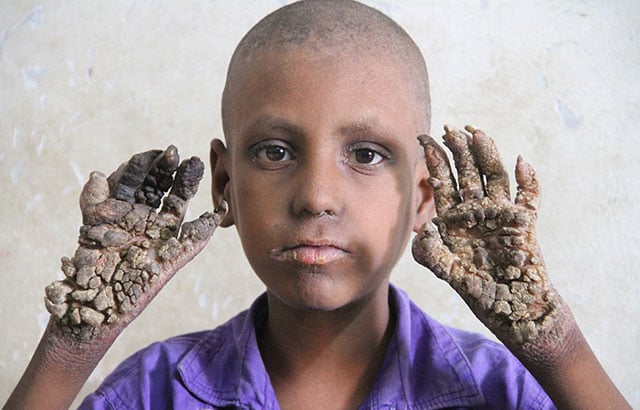 ---
A young boy in Bangladesh has been dubbed 'the tree boy' as a rare condition is turning his hands and feet into trees.
Seven-year-old Ripon Sarker from Thakurgaon, Bangladesh suffers from a condition known as epidermodysplasia verruciformis which causes abnormal susceptibility to human papillomavirus causing the growth of scaly warts all over the body.
Bangladesh's 'Tree Man' may need dozen more operations
According to his father, warts began to develop on Ripon's palms and feet when he was only three months old and the condition has since worsened with the warts increasing in size.
The young boy was admitted to hospital for the first time for treatment this month as his family couldn't afford it earlier. "They haven't carried out tests on him. Physicians say they will look into this matter before treatment," his father Mahendra Das said.
Due to the extent of the condition and his tree-like hands and feet, Ripon is unable to walk. Doctors, however, are hopeful that his hands and feet are operable as his fingers and toes can still be identified.
Ripon's symptoms resemble those of 26-year-old Abul Bajandar who was earlier dubbed the 'Tree man' and also underwent surgery at the same hospital.
Bangladesh's 'Tree Man' undergoes successful surgery
"We are hopeful about the child's situation. In Abul's case, we couldn't distinguish the warts from his fingers. Ripon's warts have not expanded to that extent yet," burn and plastic surgery unit coordinator Samanta Lal Sen said. "He can identify his fingers and toes. We might be able to treat him with fewer operations."
The physician went on to explain the extent of how poor the family is. "That's why he lacks proper nutrition. His physical development has been hampered as well. We need to give him proper nutrition before the operations begin." The young boy may also require blood ahead of the operation.
This article originally appeared on Mail Online.