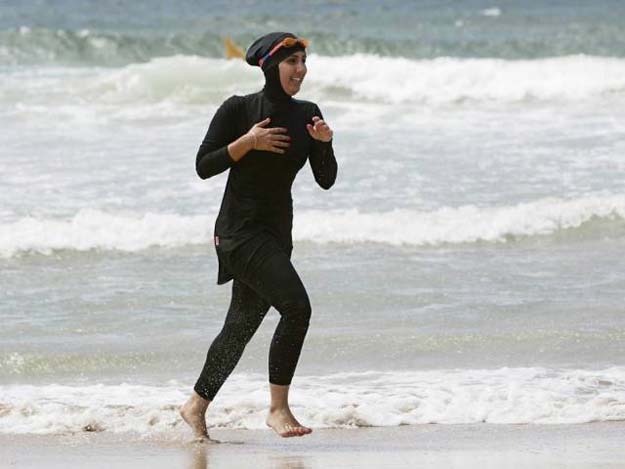 ---
As some French seaside resorts ban the burkini for being 'incompatible' with French values, it turns out more and more women are buying the swimwear.

It may come as a surprise but almost half of all burkini buyers are non-Muslim. Aheda Zanetti, one of the biggest sellers of burkinis, says 40 per cent of her clients are non-Muslims. The burkini is a full-body garment worn by some Muslim women when swimming.

Nice becomes latest French city to ban burkini

The Lebanese-born designer, who created the website Ahiida, has been selling several different lines of burkinis in their thousands all over the world for the past eight years. "The burkini swimsuit was never a type of swimsuit to symbolise a Muslim woman. I took away the traditional veil which did symbolise a Muslim woman, and replaced it with a hood type of top to blend in and integrate within Australian culture and lifestyle," Zanetti told indy100.

"It was also meant to be worn by all women no matter what race, religion, shape, colour and for whatever reason. Women have the choice to choose what they want to wear or not and I don't think anyone should take this away from them," she added.

Burkini ban is sexist, hypocritical and discriminatory: HRW

Although French Prime Minister Manuel Valls has called the piece of clothing "enslave[ing] women," the move to ban it has met with widespread criticism. Human Rights Watch (HRW) also condemned the ban as sexist, hypocritical and discriminatory.


The case that one should not dictate what women can & can't wear is perhaps not best made by dictating what women can & can't wear #burkini

— Mitch Benn🇬🇧🇪🇺 (@MitchBenn) August 20, 2016
#BurkiniBan

Visto en: https://t.co/rVylk3oxCC

"Conflicto de valores"
Por Khalid Cherradi pic.twitter.com/JzHRpMgHhH

— P. Fierro (Mateteag) #NoALaLUC (@pefier) August 22, 2016
This vile oppression and utter misogyny must be banned.. Oh, wait, they're not Muslim. Never mind. #France #Burkini pic.twitter.com/zCNbahMOOX

— Sayed M. Modarresi (@SayedModarresi) August 19, 2016


https://twitter.com/Emre_C_Deniz/status/767586655339356160

This article originally appeared on the Independent

Have something to add to the story? Share it in the comments below.