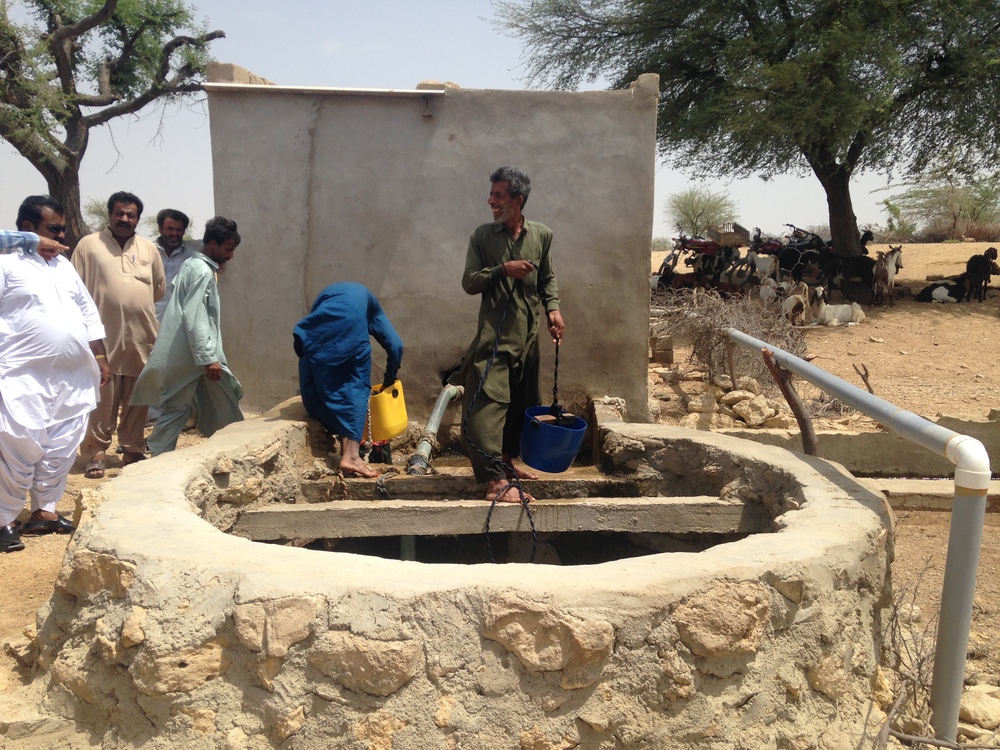 ---
KARACHI: It is not a hidden fact that Pakistan lacks in areas of infrastructural development, faces an acute energy crisis, and is unable to provide basic facilities of healthcare and education to many.

Hence, it makes sense that startups tend to focus on these areas to fill the void.

'Goats for water' (GFW) is one such endeavour and was recently selected as one of 18 South Asian companies in the USAID- and DFID-funded SPRING programme - a startup accelerator.

This billion-dollar startup may topple Gillette's razors

The programme has chosen startups based on the businesses' commitment to providing economic empowerment to girls. They will receive nine months of technical expertise, investment-readiness support and mentorship.

The business model

The GFW, as its name, is based on the centuries-old barter system, allowing rural communities to exchange their 'goat holdings' for a solar-powered water pump or solar home-lighting solutions.

The model is currently being tried out in off-grid villages in Sindh hit by the energy crisis but have ample access to sunlight to sustainability meet their energy needs.

Fariel Salahuddin, the founder of GFW, is an energy consultant who had advised governments in South Asia, East Asia and MENA region on energy policy.

"It was while advising the Pakistani government on circular debt and energy crisis that I identified the need for a community-based, off-grid approach to fulfil the rural populations' energy needs."

The start-up has so far successfully installed solar pumps in three villages, Pathan Goth, Faiz Muhammad, and Haji Nabi Buksh, said Salahuddin.

"Most of these villages in Sindh are operating pumps on old (tractor) engines running on diesel. We offer them our services in return for livestock; the number of goats is equivalent to the communities' one-year expenditure on diesel fuel consumed to pump water from the ground and the market price of the goats.

Patari wins big at international startup competition

"The cost varies from village to village as depths of the wells vary. For a 300-400 feet well, the cost is usually Rs1 million to 1.5 million."

One solar pump provides about 200 households with daily supply of water. According to the GFW team, the daily availability of water has improved the health and hygiene of the community as well as increasing their livelihood.

"With low water access, the livestock was of lower weight and fetched a lower sale price. After the installation of the pump and with regular water access, farmers are able to increase the quality and value of their livestock holdings."

Salahuddin said a normal transaction would mean a farmer giving up 30 goats for one solar-powered pump.

GFW then sells the 'goat holdings' around Eidul Azha time, when demand for these animals is at its highest.

The start-up is planning to now expand operations to two more villages in Sindh.

How does it help women?

Salahuddin said women or girls are generally responsible for fetching/collecting water for households in rural areas.

"Mostly, it has been seen that people do not have money to buy diesel to keep their pumps running and hence women have to walk many kilometres to gain access to water.

This startup helps you get a US talent visa and save thousands of dollars

"This wastes a lot of their time, which otherwise could be utilised in doing other productive work. This business model helps save them that time.

"Girls also tend to skip school to accompany their mothers to walk long distances. But in places that now have regular access to water, girls are reportedly attending school more regularly, and women have reported more leisure and income generating time," she said.

Published in The Express Tribune, August 21st, 2016.

Like Business on Facebook, follow @TribuneBiz on Twitter to stay informed and join in the conversation.
COMMENTS (8)
Comments are moderated and generally will be posted if they are on-topic and not abusive.
For more information, please see our Comments FAQ