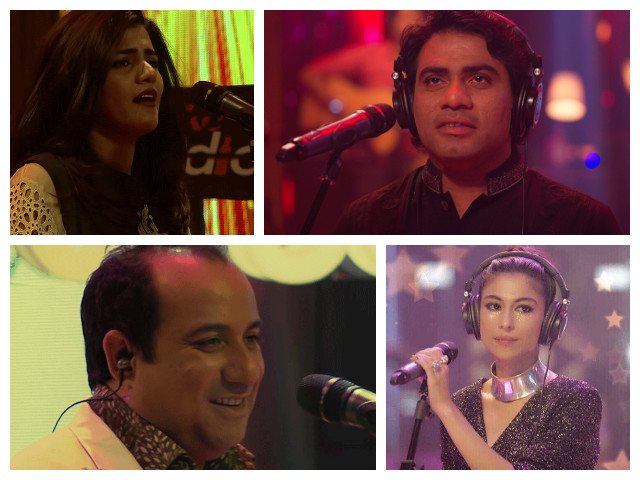 ---
This was not intended to be a eulogy to the genius we call Javed Bashir. However, having heard the second episode of Coke Studio 9, to us it sounds like a fine idea which we shall address in a bit.

With only eight songs out, the season has so far introduced 14 singers in a slew of the most random of collaborations. Creative choices are creative because they share a causal relationship with each other. Perhaps this is what creates the final product anew. With these two episodes, it is either the total absence of a plan or the simultaneous implementation of several that is telling us that things do not look good.

Top 15 Coke Studio songs of all time

Meesha Shafi was handed a solo performance that explored her strengths. However, the show aptly restored balance to the universe by bringing yet another female vocalist-cum-prop in the shape of Momina Mustehsan. The remaining two tracks had a lot of promise and a lot of singers as well.

Man Kunto Maula


Javed Bashir has have given us yet another opportunity to wax lyrical about his unparalleled abilities, this time with even more vigour. There is perhaps no other way of saying this: he is the apotheosis of the Pakistani music industry.

Amir Khusrow's doorsill is one where every musical giant of ours visits at least once, to pay respects. Almost 700 years have gone by and the Qaul still does not get old.
Javed Bashir here has done what Atif Aslam and Riaz Ali Khan couldn't do together in Season 2.




Ali Azmat's bits are difficult to digest; we have never in the past heard a rock manqabat that makes us wonder if it really is what the lyrics want to say it is. In an ideal world, Javed Bashir could have done it alone and given us an even bigger masterpiece.

Yet, despite having a weak link in Ali Azmat's shape, the whole here is still greater than the sum of its parts. If you listen to it a couple of times, you will realise that by not admiring Ali Azmat's doing, you long for Javed Bashir's bits even more, making them sound grander and fulfilling. This can be noted when the former Mekaal Hasan Band member returns to the chorus for the second time and continues to the charge for the remaining duration of the song.


Baliye (Laung Gawacha)

As compared to her Sammi Meri Waar stint, Quratulain Balouch gets a better share of the pie this time and Noori's idea of making Mussarat Nazir'sLaung Gawacha sound heavy does not turn out bad at all. However, Haroon Shahid is also part of the song, because why not? From the ongoing season, this is yet another example of a collaboration spoiling things for everyone.




Let's revisit two established facts. First, Ustad Tanveer Hussain is good with practically every stringed instrument in the world. Second, a mandolin does not fit all situations (Dilwale Dulhania Le Jayenge is not an acceptable example to give).
In Baliye (Laung Gawacha), you hardly hear what he is doing, spare for a few seconds, and if you do not see the video, you won't know that he too is there.


'Coke Studio' is a turning point of my career: Naseebo Lal

Afreen Afreen

Momina Mustehsan has said she did not rehearse for this one; we wonder what the compulsion was to still go for the final take.

Afreen Afreen is a school Eid Milan party jam where the overly-enthusiastic guitarist, who has just mastered the chords to a popular number, is hell bent on proving his mettle to an audience that is not interested at all. It saps the charm out of what arguably is one of the finest lyrical and compositional pieces to come out of our part of the world.




On an afterthought, this feeling might also have emerged because we have become so accustomed to ornamentation on the show that the idea of an acoustic guitar carrying the day sounds unacceptable at best. Even otherwise, Kashan Admani and Imran Akhoond can barely be heard.

Rahat Fateh Ali Khan is as good as ever but his vocals are too loud in the mix. Momina Mustehsan starts out high and by the time the chorus reaches its end, she has nothing more to offer except a sheepish smile. If smiles were all that was required of her, she has indeed delivered.
Yet, this tribute could have been much worse; not to forget Mehwish Hayat is also on the show this year.

On Faakhir's part, this is a servile display of mediocrity. Ayesha Jalal once said Pakistanis cannot explain themselves. For Nusrat Fateh Ali Khan's admirers, Faakhir must prove this great historian wrong and tell us why he did what he did.


Bholay Bhalay

Shani Arshad's first song of the season is more of a situational track that emerges in a film, entertains for a bit and then takes its leave; film music already has his full attention these days so this inclination does not come as a surprise. This is Meesha Shafi's home turf and we hardly have anyone else who can challenge her in it; listen to Eva from Moor for more evidence.

Omran Shafique's guitar riff and Shehroze Hussain's slick harmonium playing constitute for a big plus. With Shehroze Hussain, Coke Studio has upgraded its harmonium section; he has done a fine job with Baliye as well.




However, as catchy as it yearns to be, Bholay Bhalay does not grow on you. It ends up being just another song coming out on just another day.


Rating: 3/5
Verdict: The episode was a winner had Momina Mustehsan, Haroon Shahid and Ali Azmat not been forced to feature on the songs

Have something to add to this story? Share it in the comments.