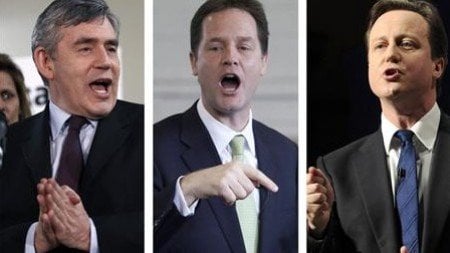 ---
LONDON: Britain's opposition Conservatives offered a "comprehensive" power-sharing deal to the third-placed Liberal Democrat party Friday after a knife-edge election left the kingdom in political limbo.

Conservative chief David Cameron spoke with Lib Dem leader Nick Clegg after winning most seats from Thursday's general election, but falling short of the overall majority needed to immediately oust Labour from power after 13 years. "I want to make a big, open and comprehensive offer to the Liberal Democrats. I want us to work together in tackling our country's big and urgent problems," Cameron told a press conference. "I hope we can reach agreement quickly," he added, while leaving open the possibility of a minority Conservative government, relying on support from smaller parties to pass legislation on an ad hoc basis.

Final results showed the Conservatives had 306 lawmakers compared to 258 for Labour and 57 for the Liberal Democrats, leaving the Tories short of the 326 seats needed to govern unaided in parliament's 650-seat lower House of Commons.

It is the first hung parliament in Britain since 1974. In these circumstances, incumbent Labour Prime Minister Gordon Brown has the right to stay on in office, possibly seeking coalition partners, but he accepted Clegg's decision to open himself to talks with Cameron first. Cameron and Clegg would be "entitled to take as much time as they feel necessary", Brown said.

But failing those talks, he was open to negotiation with the Lib Dems, notably offering immediate legislation on their key policy of electoral reform. "Clearly should the discussions between Mr. Cameron and Mr. Clegg come to nothing then I would of course be prepared to discuss with Mr. Clegg the areas where there may be some measure of agreement between our two parties," he said.

The pound slumped to a 13-month low against the dollar and London stocks sank on fears the deadlock would hamper the nation's ability to slash the giant public debt, analysts said.

Until Brown and Cameron's statements, the centre-left prime minister's key allies said Labour, which has ruled since 1997, would try to cling to power through a deal with the centrist Lib Dems. But Clegg said the Conservatives, as the largest party in the new parliament, had the "first right to seek to govern".

After the comments Cameron and Clegg held telephone talks for 10 minutes, a Lib Dem spokesman said, adding: "They agreed that they should explore further proposals for a programme of economic and political reform." But negotiations could be tough: Clegg and Cameron are much further apart in terms of policy than the Lib Dems and Labour: Clegg is a europhile, wants to scrap the Trident nuclear deterrent and backs an illegal immigrant amnesty.

Cameron said in any deal it was "reasonable to expect the bulk of policies in our manifesto" would be implemented, while highlighting common ground on issues like civil liberties and the need for a low carbon economy. "I think we have a strong basis for a strong government," he said. Despite their potential role as kingmakers, the Liberal Democrats' showing was highly disappointing after the surge of support they enjoyed on the back of Clegg's strong performances in televised debates.

Foreign reaction to Britain's political limbo was muted. In Washington, a White House spokesman said the "special relationship" between Britain and the United States would remain intact whoever emerges as prime minister. "I don't think this period will affect the economy or affect going forward the special relationship that we have," said spokesman Robert Gibbs. "We look forward to working with whoever is the prime minister." Some commentators said the only solution to the deadlock might be a fresh election.

"Either way there's going to be an election again soon, probably before the end of the year," Victoria Honeyman, a politics professor at Leeds University, told AFP. There were several notable political casualties of the election. Northern Ireland First Minister Peter Robinson lost his House of Commons seat following a sex and cash scandal involving him and his wife. Labour losses included former interior minister Jacqui Smith, who was caught up in an expenses scandal after claiming for adult films viewed by her husband. She lost her seat in Redditch, central England, to the Conservatives.

The polls were marred by protests by voters prevented from casting their ballots in London, Leeds, Sheffield and other cities, where they were still queuing as polling stations closed at 10pm. Justice Secretary Jack Straw said legal challenges could not be ruled out, while the Electoral Commission watchdog launched an investigation.