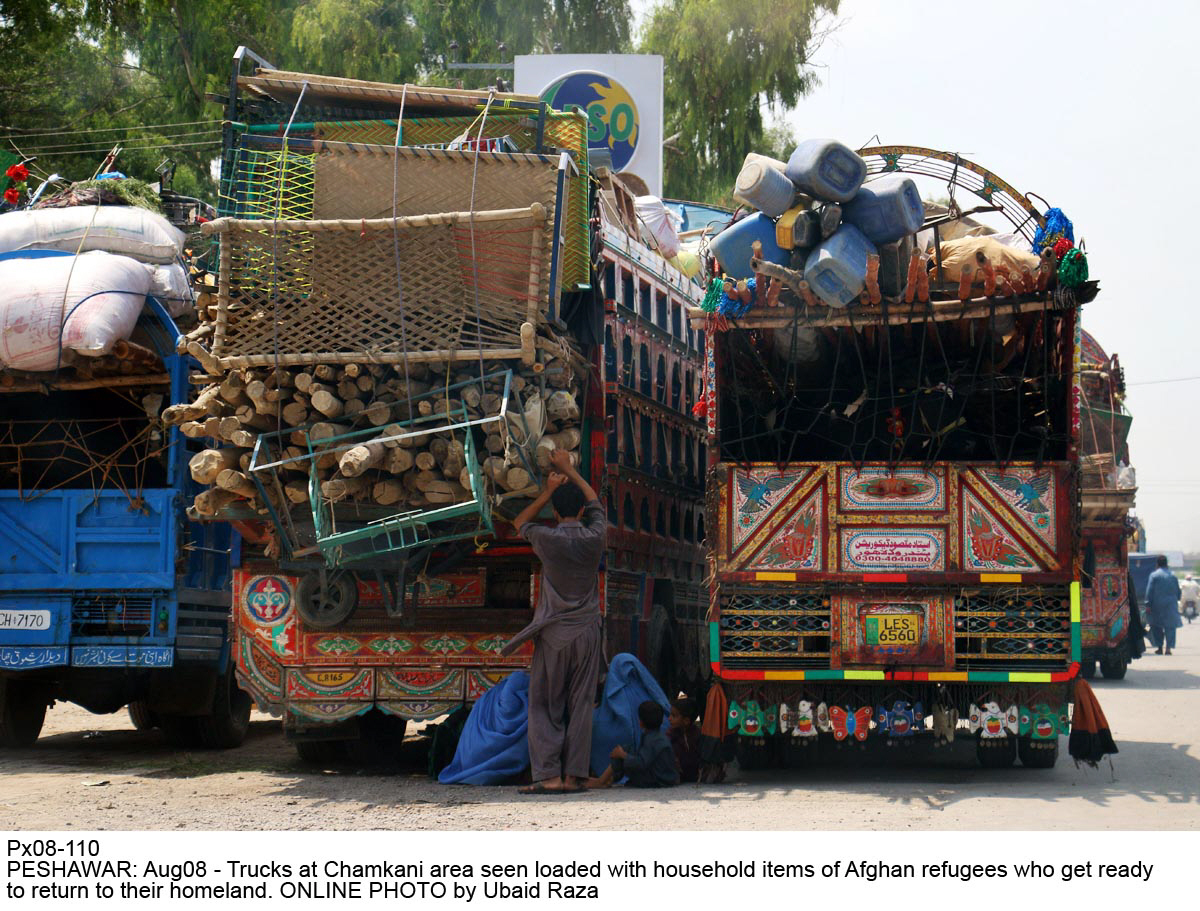 ---
PESHAWAR: Burgeoning pressure from the authorities has put Afghan nationals under considerable financial pressure. A large number of unregistered Afghans, who once lived peacefully in different areas of Pakistan, now face difficulties in finding a place to live in the wake of orders for their repatriation. The United Nations High Commission for Refugees (UNHCR) is already engaged in repatriation of registered Afghans. It has provided departing refugees a standard package of around $400 per head. However, such packages or facilities have not been extended to unregistered Afghan refugees.

Afghanistan's Independence Day celebrated in Peshawar

Ray of hope

In this regard, a 100-member delegation of Afghan refugees is going to meet Afghan President Dr Ashraf Ghani in Kabul next week. The delegation seeks to resolve the problems of all the Afghan nationals who are going back to their motherland.

Abdul Hameed Jalili, a Peshawar-based Afghan diplomat, has told The Express Tribune the delegates included leading elders, traders, transporters, academics and other members of the community.

According to Jalili, the delegates are going to brief President Ashraf Ghani about the problems and hardships of returning families.

In light of this, the Afghan government is likely to announce a package. "The Afghan government has already announced the allotment of a residential plot to each family who possesses a POR card. Meanwhile, unregistered Afghans are given a green card on entrance to Afghanistan at Torkham.

"UNHCR has already announced a 100% increase in cash assistance," he said. "The registered refugee's package has increased from $200 to $400. The UNHCR has also extended edible and non-edible support to repatriating Afghan families."

Within 30 days Afghan refugees asked to relocate Haripur

Earlier, Refugees Repatriation Minister Syed Muhammad Alam Balkhi had promised to extend maximum facilities to repatriating families. This was said during his last visit to Pakistan, but the claims are yet to materialise.

Gulab Said, an Afghan national who returned to Jalalabad, told The Express Tribune over the telephone that there is no arrangement for the repatriating families.

Most of them have decided to move in with relatives or are living in rented houses.

"A large number of repatriating families are living under the open sky due to lack of accommodation in Jalalabad and several other cities and towns," he added.

'Afghan refugees will be restricted to camps'

Repatriation has become a serious problem for poor families. Money is tight as these people are engaged in farming or earn daily wages.

Rahmat Khan, an Afghan national who worked at a tandoor, had made the journey to Afghanistan after begging his landlord to return the money he had deposited as advance for his house.

Published in The Express Tribune, August 19th, 2016.