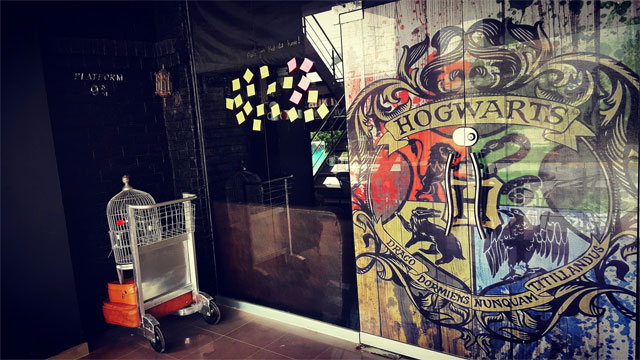 ---
This summer has been really interesting: Pokémon Go was released, which got everyone on their cellphones wandering around the city catching Pikachu and the much anticipated book, Harry Potter and the Cursed Child, came out which had people lining at book stores. It's like we are all back in 2006 all over again.

Phenome-Naan: A contemporary twist on a timeless classic

The Harry Potter craze has revived all potterheads once again and while most of them secretly hope to watch the play live at the West End in London next year, people in Islamabad can rejoice because a Hogwarts Café opened in Islamabad this week.




Located in PWD, near Bahria Town, the Hogwarts Café appears to be small from the outside but conceals a large magical world inside that is nothing less than heaven for potterheads.




Hassan Khan, the mastermind behind the Hogwarts Café told The Express Tribune that this generation has grown up with Harry, Ron and Hermione. "Our childhood has been spent daydreaming about Hogwarts. Turning 11 was a milestone for us while we sat in a corner of our homes with the hope that an owl would tap on our windows with a letter at any time.




But it never happened (maybe because Voldemort destroyed all records of muggle-born wizards from 1985 till 1998). Having said all this, we have always wanted to visit a place where we can enjoy good food as well as where our kids can indulge in the world of Harry Potter as we have. A nice place for muggles, where they can work on their laptops, maybe read a book and have a mug of chilled Butterbeer at the same time," he said.

Quality 3/5

Since Hogwarts Café is essentially not a restaurant one does not expect it to serve main courses, but the place offers a wide range of burgers, Chinese food and steaks as well. The desserts at Hogwarts Café though are worth a special mention. The chocolate fudge cake named the 'Forbidden Cake' is super moist and has layers of fudge in it. The dark chocolate cake, named 'Hagrid's Rock Cake', is perhaps the best dark chocolate cake one can find in the city.




Their desserts, however, may seem extremely similar to a popular café in Islamabad and that's because they have been outsourced. The 'Imperius Cake' is a fluffy cheesecake with a crunchy base. And one can't praise 'Merlin's Brownies' enough; they're gooey and high on flavor. Request for a scoop of ice cream with these and they'll make your day.




Moreover, people in Islamabad can now taste the Butterbeer without heading to Universal Studios! The drink tastes rather funny and there has been mixed reactions to it, but it is essentially made of soda, vanilla ice-cream, butterscotch syrup and cinnamon.

Café M is 'freaking' amazing

Presentation 3/5

This is one area Hogwarts Café needs to work on. While the desserts served here are delectable, their presentation leaves one hoping for more. The staff needs to be trained on how to serve a slice of cake so it looks like a treat to the eyes as well. The drinks on the other hand fared a lot better and were presented very well with colourful straws.




Atmosphere 5/5

Even though the location of the café is an immediate turn-off, this place surprises you the second you enter it. It is like a whole new world inside. So much effort has gone into the décor and its minor details that one is instantly transported into the world of Harry Potter.

Restaurant Review: Hoagies serves up a long sandwich gone wrong

With excerpts from the books painted on the walls, round wooden chandeliers and framed photographs adorning the walls, Hogwarts Café is the perfect place to chill with friends who are also potterheads. The café has a lot of Harry Potter merchandise for sale including mugs, necklaces, cloaks, wands and a lot more. At the front entrance there is a platform 9 and ¾ too incase you want to click a picture in front of it and Kings Cross is not within reach.




Verdict – 3/5

There is no denying the fact that Hogwarts Café is a must-visit for all potterheads. It's the place where their souls will feel at home, but for others not so much.