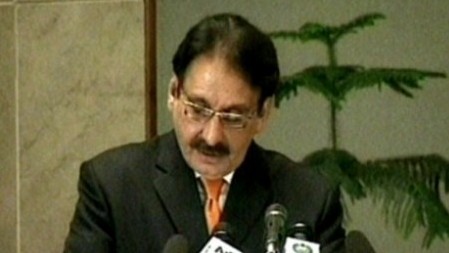 ---
ISLAMABAD: Chief Justice Iftikhar Muhammad Chaudhry on Friday directed the Islamabad police chief to recover the kidnapped son of veteran journalist Shakeel Turabi within a week, ordering him to file a report by next Friday.

A three-member bench of the apex court, headed by the Chief Justice himself and comprising Justice Ghullam Rabbani and Justice Khalilur Rehman Ramday, while hearing a suo moto case rejected the report filed by the Islamabad police about recovering Turabi's son, Sharjeel Hassan, who was abducted four months ago.

When the chief justice asked DIG Islamabad Bin Yamin: "Where is the child? When will you bring him back?" the DIG professed his ignorance about the child's whereabouts. The chief justice observed that if the child was not recovered, the court would have to take action, adding that the child had been missing for the past four months, and if the court had not acted on its own, police might not have come into action. "You are the city's chief law enforcer.

No one can enter (or leave) the city without your permission. Are you sitting in police stations just to register cases? Is this your only job… Lodge a case and then dispose of the matter?" the chief justice remarked. He asked the DIG to submit an affidavit, assuring the court he would produce the child on the next hearing. On the report submitted by the DIG, the chief justice remarked that the court did not need such reports, the court wanted results.

The DIG informed the bench that he had contacted all relevant departments, including intelligence agencies, for the recovery of the child but to no avail. DIG Bin Yamin sought a three-week margin from the chief justice for investigating the matter. The chief justice also ordered the DIG to contact the interior secretary and other officials concerned for the child's recovery.

Shakeel Turabi informed the court that his son was kidnapped on Jan 5 and DIG Bin Yamin had assured him that his son would be recovered "in two days", but later he denied making any such claims. The Chief Justice warned the DIG of serious consequences if he failed to produce the child on the next hearing and adjourned the case till next Friday.
COMMENTS
Comments are moderated and generally will be posted if they are on-topic and not abusive.
For more information, please see our Comments FAQ