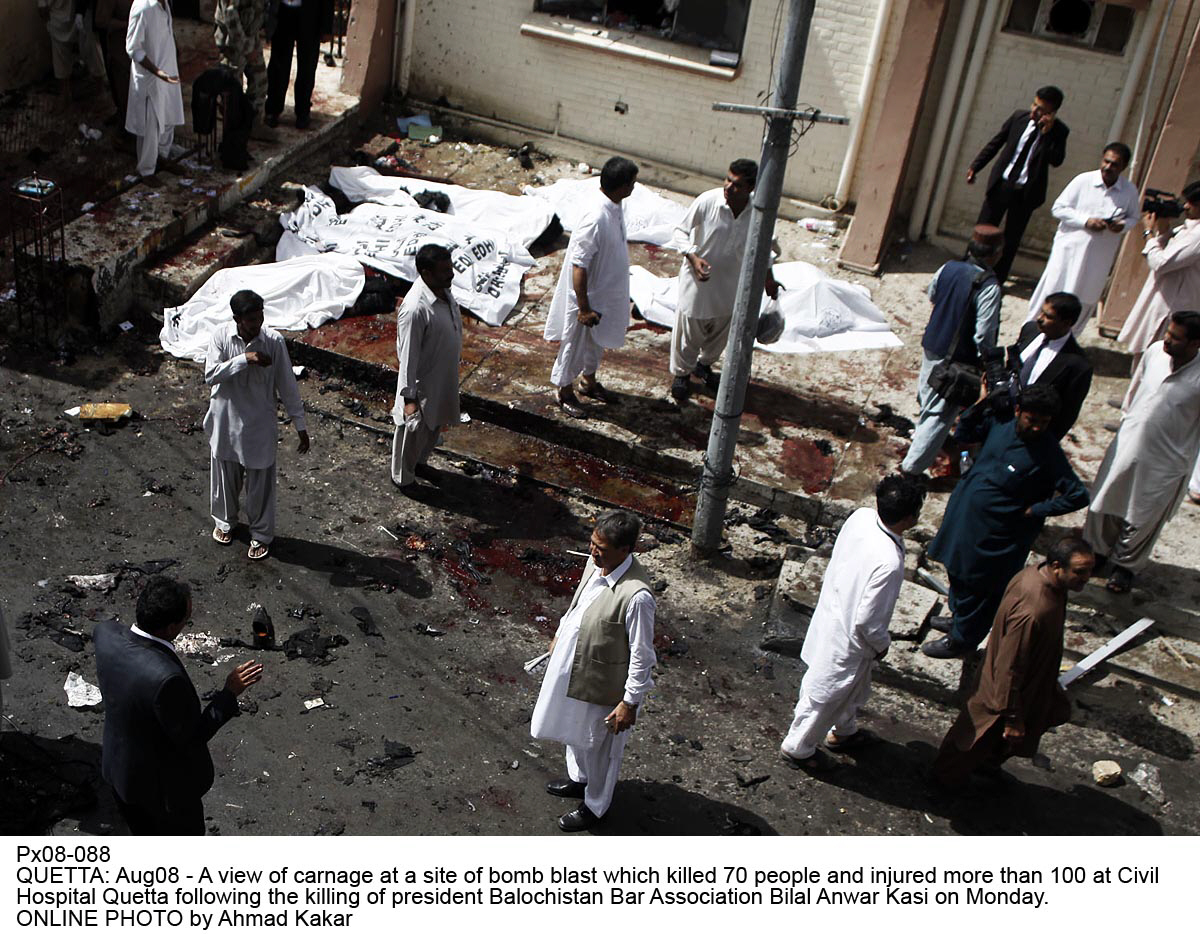 ---
QUETTA: Balochistan Chief Minister Nawab Sanaullah Zehri strongly rebuffed Indian Prime Minister Narendra Modi's recent claim that the province was suffering repression following a crackdown on insurgency – likening it to the struggle in the disputed Himalayan territory of Kashmir. "The government and people of vehemently reject Modi's statement on the situation in the province," CM Zehri said.

Speaking at an event held in commemoration of the country's Independence Day, Zehri said that there was a huge difference between the situation in Indian-occupied Kashmir and Balochistan.

Pakistan to account for violations in Balochistan: Modi

Several events were held at Balochistan University of Information Technology, Engineering and Management Sciences (BUITEMS), Bugti Stadium in Quetta and Balochistan Assembly as well as the Quaid-i-Azam Residency in Ziarat to mark the day.




Commander, Southern Command Lt-General Aamer Riaz, provincial ministers and senior civil and army officials were present on these occasions.

The chief minister said: "A handful of miscreants, manipulated by the Indian intelligence agency, are involved in anti-peace activities in Balochistan. People of Balochistan are loyal and patriotic … they love Pakistan and will never support the nefarious designs of the country's enemies."

He said the arrest of a serving officer of Indian Navy proved that India had launched an unconventional war against Pakistan.

"India is behind terrorism, militancy and anti-peace activities in Balochistan," he said, adding that nefarious designs of Pakistan's enemies would be thwarted.

"The situation (in the two regions) is very different as the people of Indian-held Kashmir desire freedom from India and Indian armed forces have been brutally and violently victimising them," Zehri said.

Modi willing to resolve all issues with Pakistan

"But in Balochistan," he added, "the people love Pakistan and they want to live within the legal framework of the country."

"You cannot term it a fight for freedom if a few misguided youth are waging militancy and involved in anti-peace activities in Balochistan."

He insisted that the people of the province "truly love Pakistan and they are patriotic Pakistanis".

According to Chief Minister Zehri, the enemies of Pakistan were involved in militancy and terrorism in Balochistan ever since the China-Pakistan Economic Corridor (CPEC) projects were announced. "Indian spy agency Research and Analysis Wing (RAW) and other enemies of the country are involved in funding militants to disrupt peace and stability in Balochistan," he said.

Published in The Express Tribune, August 15th, 2016.
COMMENTS (23)
Comments are moderated and generally will be posted if they are on-topic and not abusive.
For more information, please see our Comments FAQ