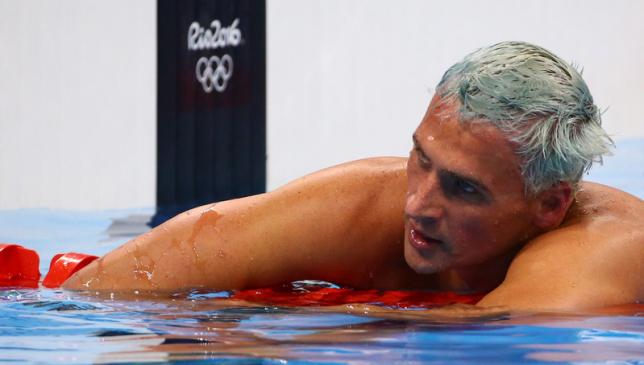 ---
The Olympic diving pool is not the only thing turning green in Rio de Janeiro after American swimmer Ryan Lochte saw his hair turn green.

Team USA's Lochte won the men's 4x200m freestyle gold on Tuesday. Especially dyed for the Olympics, fans were quick to notice that when he took his swimming cap off in celebration his blonde hair had turned green.

Why did the water in Olympic diving pool suddenly turn green?

This was after several across the world were baffled as water in the Olympic diving pool in Rio suddenly turned dark green from its normal blue colour. The mysterious shade of the water, which contrasted sharply against the blue hue of the water polo pool beside it, generated jokes about algae and dye on social media and overshadowed the women's 10 meter synchronised platform final.

Lochte's changed hair colour was more apparent on Wednesday when he competed in the 200m individual medley where he locked horns with United States teammate Michael Phelps. After again removing his swimming cap, Lochte's hair was revealed to be turning green, which could be due to the chlorine in the swimming pool.

What are those circular marks on Michael Phelps' body?

The water in the pool had been blue on Monday and there is yet no explanation as to why it changed colour. However, according to the organisers, it is safe. Officials say; "The water quality at the Maria Lenk Aquatics Centre was tested and there were no risks for the athletes." They added that they are investigating the cause.

How bad is Pakistan in Olympics?

Lochte qualified from his heat with the fastest time, although Phelps turned on the style in the semi-finals to shave three seconds off his time and beat his compatriot to reach the final, where he will be alongside Lochte in lanes four and five.

https://twitter.com/RyanLochte/status/761973850137591808

https://twitter.com/RyanLochte/status/763267340347838464

https://twitter.com/RyanLochte/status/763388559193759744

This article originally appeared on Independent.
COMMENTS
Comments are moderated and generally will be posted if they are on-topic and not abusive.
For more information, please see our Comments FAQ