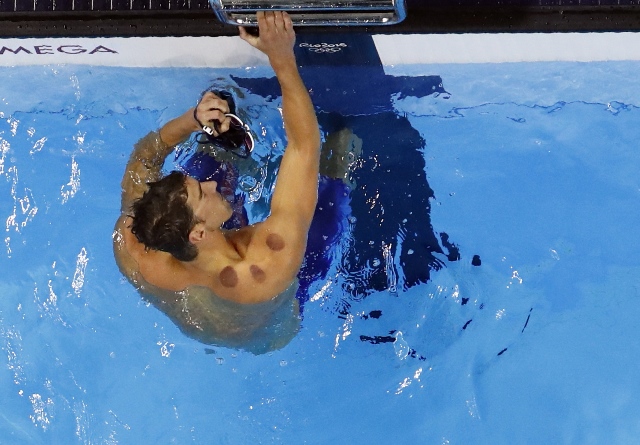 ---
RIO DE JANEIRO: Michael Phelps has set tongues wagging at the Rio Olympics by sporting mysterious deep-purple circles on his body, looking as if he has been attacked by a blood-thirsty vampire.

The welts, which resemble giant hickeys, are actually caused by the ancient Chinese healing technique of "cupping" -- which has since become a celebrity health fad supposed to improve blood flow and energise the body.

"I have done it for a while, but I haven't had bad ones like this for a while," Phelps told reporters after Monday's 400 metres butterfly heats.

Phelps clinches 19th Olympic gold

"That's where they usually hurt the most," added the American, rubbing his right shoulder.

"I've done it before pretty much every meet I go to. I just asked for a little cupping yesterday because I was sore and the trainer hit me pretty hard with one and left a couple of bruises."

In an era when the spectre of doping casts a long shadow over sport, the suction therapy -- which dates back thousands of years -- is a legal alternative.




It works by drawing blood to the affected area, reducing soreness and speeding the healing process of overworked muscles.

Pressurised cups are placed on the skin and the suction causes capillaries just beneath the surface to rupture. It lasts only a few minutes and can result in golf ball-sized bruises.

"It's like the decorative garnish on a steak," said Keenan Robinson, director of high performance for the American swim team.

"Mike's walking around looking like a dalmatian, but it's just another recovery modality."

Sink or swim: One final hurrah for Phelps

Celebrities have embraced the cupping craze, however, with Gwyneth Paltrow, Victoria Beckham and Jennifer Aniston all spotted with the tell-tale marks on their bodies.

Phelps, the most decorated athlete in Olympic history, swears by it to help gain an edge.

"Imagine if you have a tent and some of the cords are too tight, it's going to distort how the entire tent functions," explained Kevin Rindal, one of only four chiropractors in the world Phelps will allow to work on his body.




"The athlete's muscles have to be in perfect tension," he added. "If it's too tight on one side, neurologically it can cause other muscles to not fire as well."

Phelps, who won a remarkable 19th Olympic gold in Sunday's 4x100m freestyle relay, is not the only cupper on the American swim team, while several gymnasts competing in Rio also have regular sessions.

"We are compressing tissue, massaging it," said Rindal. "We put the cups on Michael and separate out the layers of fascia to allow for better glide between the muscles. It's fine tuning of the tissue."

Phelps travelling to Rio on 'own terms'

However, there is little science to confirm any real physiological benefit.

"There is a psychological component," admitted Robinson. "Michael has been doing this for a long time to feel good.

"It's like you see people walking round looking like Hellraiser with pins in them -- anything to make the body feel good," he added. "But Mike's probably the best at telling you what's voodoo and what's actually working."
COMMENTS (11)
Comments are moderated and generally will be posted if they are on-topic and not abusive.
For more information, please see our Comments FAQ