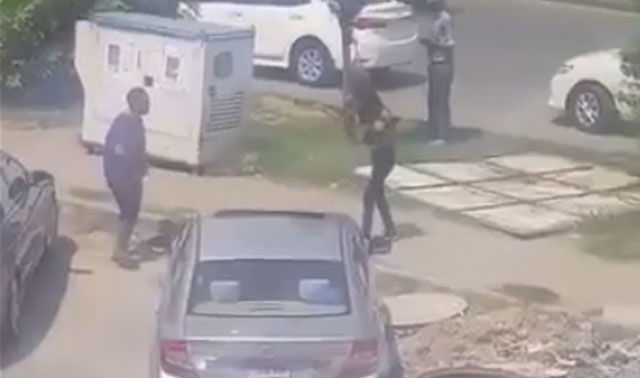 ---
ISLAMABAD: Islamabad police have arrested a transgender woman for blackmailing a man and attempting to snatch his car in collusion with two other men in Islamabad.

Shalimar police arrested Shaharyar alias Sehrish after close-circuit television (CCTV) and a mobile phone footage showed her topless and roaming on the road amid a commotion went viral on social media.

Investigation officer, assistant sub inspector (ASI) Farrukh Habib told The Express Tribune that Sehrish and two men, identified as Shakeeb and Javed, were arrested in connection with the case and sent to jail on judicial remand.

The car was recovered from Maira Jaffar Chowk on Monday, the official added.

Trans community seeks jobs, education

Video footage recorded on August 6 showed Sehrish wrangling and pushing a man, identified as Ahsan Malik, in an ATM booth in F-10 Markaz after taking her shirt off and later following him to his Mercedes parked outside the bank.

She was then filmed throwing stones towards the man as he tried to stop her and was heard saying "Please just leave me alone…I don't even know you."

Later, another man approached Malik and offered to park his car elsewhere to "save" him from the harassment

Under pressure, Malik handed over the keys to the man, who later disappeared with the car as did the transgender woman.

The victim subsequently lodged a complaint with Shalimar police, saying the transgender tried to get inside his car while asking for money saying, "I will make noise if you won't give me money."

Nike's new ad features transgender athlete

Malik suspected that the incident was pre-planned and that the transgender woman and guy were working in collusion.

Interestingly, a police official said Malik had given Sehrish a lift at Shaheen Chowk and she was already in the car when he arrived at the ATM.

The investigation officer, however, denied this stance and said that Safe City Project cameras showed that Malik was in the car alone.

Malik was not available for comments despite repeated attempts to approach him.
COMMENTS (11)
Comments are moderated and generally will be posted if they are on-topic and not abusive.
For more information, please see our Comments FAQ