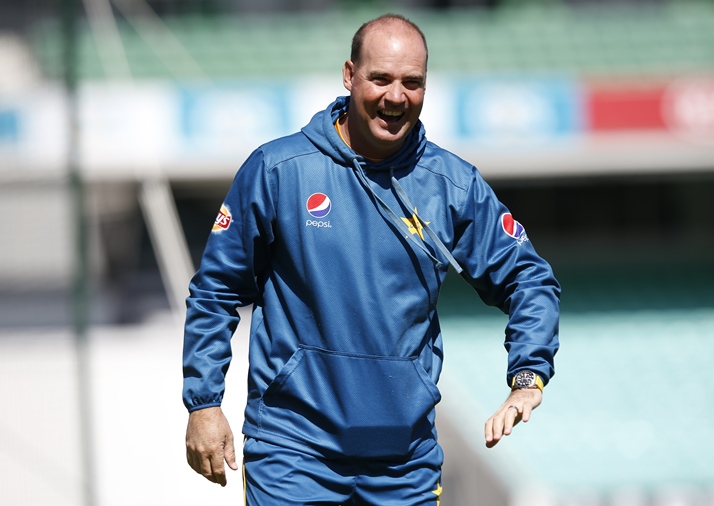 ---
LONDON: Pakistan head into their series finale against England at The Oval wondering if an extra bowler can help them square the four-match series at 2-2.

After losing the first Test at Lord's by 75 runs, the hosts have bounced back with consecutive victories at Old Trafford and Edgbaston.

A recurring scene throughout the series has been the sight of Pakistan's four-man attack tiring badly during prolonged spells in the field.

The tourists lack an all-rounder of the calibre of England rising star Chris Woakes, with out-of-form opening batsman Mohammad Hafeez, who made two and nought at Edgbaston, still barred from bowling his off-spinners because of an illegal action.


No future if cricket doesn't come back to Pakistan: Wasim Akram


Pakistan need to take 20 wickets at The Oval, where the fourth Test starts on Thursday, if they are to draw level.

They didn't manage it at Edgbaston last week where England declared their second innings on 445 for six.

At Edgbaston, Pakistan replaced struggling opener Shan Masood with Sami Aslam and saw the 20-year-old left-hander make impressive scores of 82 and 70.


Pakistan pick Umar Gul, Sami Aslam for Ireland, England ODIs


Now they could give a Test debut in south London to Iftikhar Ahmed, a top-order batsman who also bowls off-spin. "He bowls off-spin and decently, England have a lot of left handers so he does give us an option as a fifth bowler if he comes in," Pakistan coach Mickey Arthur told reporters at The Oval on Tuesday. "But we have to be dead certain he can come into our top six and get runs, because we'll be asking for runs first and bowling second."

Arthur further said playing five bowlers was also under consideration. "It's certainly one of the options, but whoever comes in somebody has got to bat in the middle order, which makes it a particularly long tail," the South African explained. "It's one that we've thought about and one I lay in bed thinking about it last night.

"That's a very positive option because we've got to get 20 wickets in this Test match. We've got to work through that one."

Yasir Shah took stunning match figures of 10 for 141 at Lord's, including six first-innings wickets, but since then he has founded it hard to impress with his leg-spin on English pitches.

After the first Test, the leg-spinner has figures of four for 502 combined in the last two Tests. "I'm hoping we can get runs on board here, it turns a bit and there's a bit of bounce - and that's a leg-spinner's best friend," said Arthur.

Pakistan could also do with some runs from Younis Khan, the sole survivor from their controversial 2006 Test against England at The Oval where the tourists forfeited the match by refusing to play after being penalised five runs for ball-tampering by the umpires.

Younis has had a lean series with just 122 runs in six innings."He's so professional on and off the field," Arthur said. "Put it this way, he's giving himself the best chance to perform."

England could go top of the world Test rankings for the first time since 2012 if they win at The Oval and India do not emerge victorious in both of the remaining matches of their series away to the West Indies.

They must decide whether to give a home debut to leg-spinner Adil Rashid and also have a few question marks against their top-order batting beyond captain Alastair Cook and Joe Root.

Alex Hales, Cook's opening partner, has yet to make a Test century and number four James Vince is still searching for a first fifty at this level.

Hales, however, did share his maiden century opening stand with Cook at Edgbaston as the pair erased a first-innings deficit of 103 runs. "The best thing about that hundred partnership is that it came in a key part of the game and a key part of the series," said Hales.

"It's important in anyone's career to get a century.I am learning and improving so hopefully the best is to come."
COMMENTS
Comments are moderated and generally will be posted if they are on-topic and not abusive.
For more information, please see our Comments FAQ