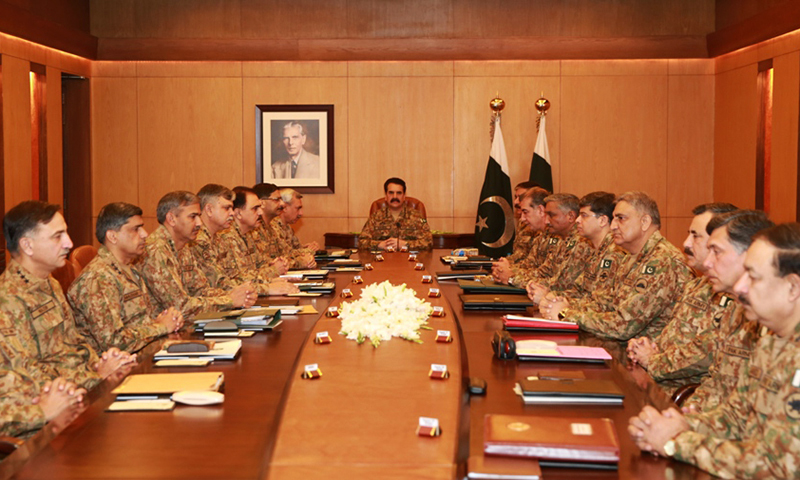 ---
ISLAMABAD: Army chief General Raheel Sharif made it clear on Tuesday that the armed forces would not allow anyone to reverse 'our gains against terrorism' after the Quetta terrorist attack sparked a media debate about the effectiveness of the country's counterterrorism strategy.

General Raheel convened a meeting of his top commanders at the GHQ in Rawalpindi to review the security situation in the wake of Monday's bombing that left over 70 people, mostly lawyers, dead.

The corps commanders' conference was given a detailed briefing on the ongoing military operations and the country's overall external and internal security with particular reference to counterterrorism domain, according to the Inter-Services Public Relations (ISPR).

The military brass expressed 'deepest sympathies with the grieved families and injured of the Quetta blast,' added the military's media wing.

The army chief said that this 'cowardly terror attack' on Pakistan's judiciary, carried out in a hospital was an attempt to undermine the successes of Operation Zarb-e-Azb.

"He strongly stated that by adopting a whole of nation approach, its valiant armed forces would not allow anyone to reverse our gains against terrorism," he was quoted as saying by the ISPR.

He directed the commanders and intelligence outfits to further intensify the combing, and targeted operations with full vigour to eliminate terrorists and their sleeper cells.

He also directed the military commanders to provide all necessary assistance to provincial LEAs (law enforcement agencies) in their capacity building through training, resourcing and planning, so as to integrate them effectively in counterterrorism operations.

While a splinter group of the banned Tehreek-e-Taliban Pakistan (TTP), Jamaat-ul-Ahrar, claimed responsibility for the Quetta bombing as well as target killing of Balochistan Bar Association president Bilal Anwar Kasi, security officials did not rule out the possibility of involvement of the Indian intelligence agency RAW.

The army chief, who visited Quetta hours after the deadly bombing, had said that the terrorist attack was an attempt to target the China-Pakistan Economic Corridor (CPEC) project. His reference to CPEC makes it abundantly clear that the security establishment believes RAW could be behind the blast.

Pakistan has long accused RAW of trying to fuel unrest in Balochistan. Earlier this year, Kulbushan Jadhav, a former Indian navy officer , was arrested in the volatile province who later confessed in a video statement that he worked for RAW to create unrest in Balochistan and other parts of Pakistan.

India, however, denied Jadhav was a RAW agent and insisted he was picked up by Pakistani authorities from Iran. New Delhi sought consular access to Jadhav but Pakistan refused to entertain the request.

Published in The Express Tribune, August 10th, 2016.
COMMENTS
Comments are moderated and generally will be posted if they are on-topic and not abusive.
For more information, please see our Comments FAQ