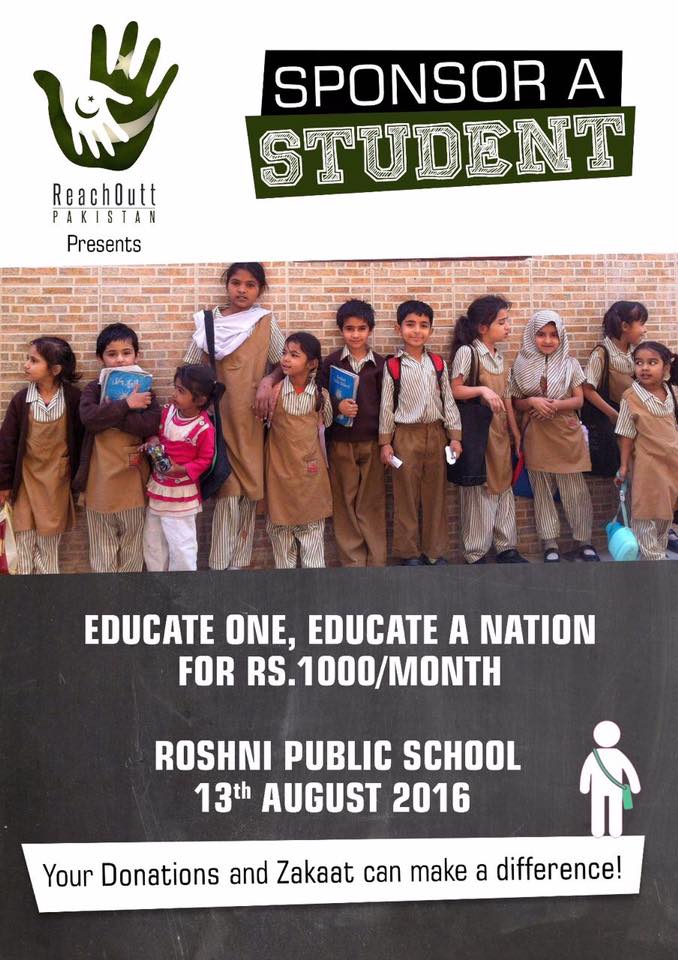 ---
A youth-based organisation, ReachOutt Pakistan is holding an Open House event in collaboration with Roshni Public School on August 13, where visitors will have the opportunity to sponsor a child's education for Rs 1000 per month.

"Every student we spoke to has a dream of becoming something. It inspires us to know that we can help them achieve this dream," Zahra Jamil, co-founder ReachOutt Pakistan told The Express Tribune. "It's not fair that these little children get held back because they cannot afford basic education," added Shaireen Waquas, also a co-founder of ReachOutt Pakistan.

Immediate action: Education minister orders reopening of 700 schools

The 'Sponsor a Student' programme was initiated by a non-profit organisation, ReachOutt Pakistan, which focuses on helping schools that are striving to provide quality education to the underprivileged. It serves as a platform to support organisations that often lack the expertise needed to promote and raise funds for their causes effectively; thus becoming an efficient liaison between donors and honest nonprofits working across different sectors. To facilitate their cause, ReachOutt Pakistan is currently working with Roshni Public School, which was founded in 2010.




Speaking to The Express Tribune, chairman of the Roshni Trust, Hasan Mahmood said, "When you donate to RPS, you join us in our fight against poverty, deprivation and injustice. We at Roshni Public School are trying to end illiteracy from Pakistan. Help us get these children off the streets and into the classroom."

Govt earmarks only Rs2m for research & development

Although a public school, Roshni Public School aims to create a learning environment similar to private schools. It currently has 250 enrolled students from kindergarten to class 9. The school is based in Qayyumabad, Korangi, and its student body consists of mainly children from nearby areas. The 'Sponsor a Student' programme differentiates ReachOutt Pakistan from other organisations in its transparency, which allows donors to receive information on what is happening in the school so that they are aware of what resources their donations are being used for.

"The idea of charity scams has been on the rise causing people to lose trust in NGOs. We at ReachOutt Pakistan are working to eradicate this problem by giving people a platform to not only donate, but also to be a part of the change," explained Barira Asif, co-founder ReachOutt Pakistan.

Public education: PEF launches teacher certification programme

Those interested in helping this cause can subscribe for the programme by contacting ReachOutt Pakistan via their Facebook page or can email them at:

[email protected]

. In the words of the Roshni Public School; "The only way to bring a positive change in Pakistan is to invest in the most important asset of the country- its people."
COMMENTS
Comments are moderated and generally will be posted if they are on-topic and not abusive.
For more information, please see our Comments FAQ