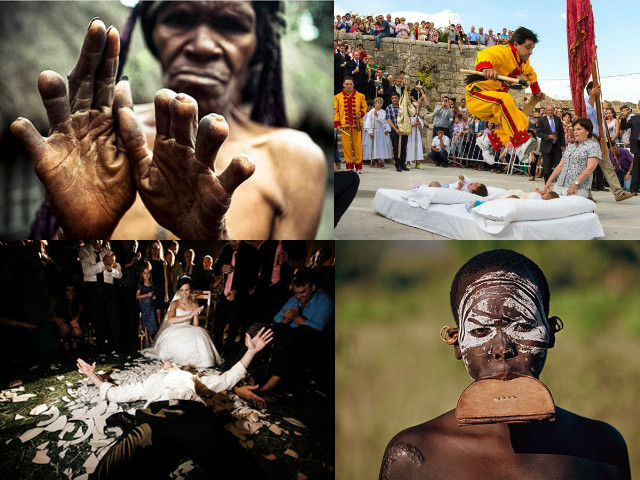 ---
While cultures around the world practice a variety of traditions, there are some peculiar practices every one must know of before traveling, in order to avoid experiencing culture shock.

Here are 10 customs from around the world that will shock you:

1. Brazil

While the world buries corpses, Brazilians eat the ashes of the dead. They believe that this will allow the soul of the dead to achieve complete salvation.




Around Pakistan in 30 days: A journey of cultural diversity, history begins

2. India

Indians of the Maharashtra state throw their babies from the top of temples, only to be caught. While such a practice may scare many, they believe it brings health and luck to the newborn.

3. Ireland

While people around the world mourn the dead, Irish people celebrate the death of their loved ones. For them, the person is moving on to the afterlife, which is a better and more beautiful place.




4. Scotland

Everyone wants to look good on their wedding day, but in Scotland family and friends show their love for the bride by pouring garbage over her. This practice which is called 'blackening,' is done to prepare the bride for any humiliation she may face in the future.




Saving heritage: Two cultural bodies join force 

5. Indonesia

Indonesian women cut their fingers when a loved one dies in order to symbolize the pain suffered by them due to the death.




6. Kenya

Many of us may think spitting on someone is a rude gesture, but Kenya's Masai tribe believes it is a sign of respect. Instead of shaking hands or kissing, they greet people by spitting on each other's hand.




7. France

In France, relatives of newly-weds collect leftover food and serve it in a real toilet bowl. They believe it will give the couple fuel to have a great night.




8. Africa

When African women hit puberty, their front teeth are removed and a plate is inserted. It is believed that this makes them desirable to Mursi men.




A cultural phenomenon

9. Germany

In many parts of Germany, newly-weds practice Polterabend -- they smash pots, dishes and whips as part of the wedding ceremony. Germans believe that the sound of smashing will scare away evil spirits.




10. Spain

In Spain, infants are laid on mattresses in the street while adults in traditional costumes, jump over them in order to keep the devil at bay.


Have something to add to the story? Share it in the comments below.