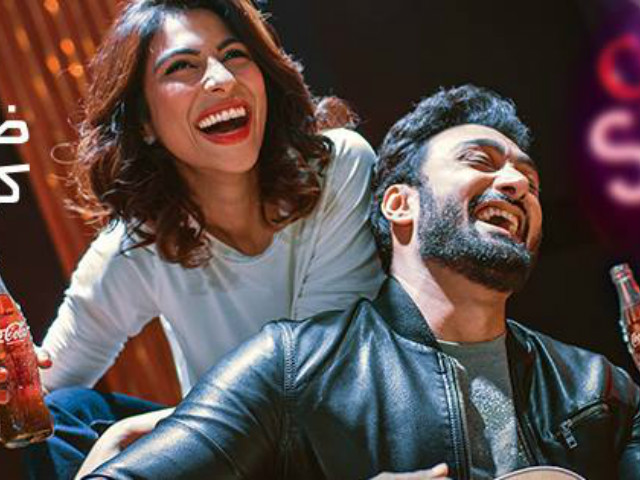 ---
Umair Jaswal and Meesha Shafi have taken the internet by storm with their latest single. The talented duo has worked its magic for Coca-Cola's latest campaign, the theme song for which -- tiled Zaalima Coca-Cola Pila De -- has become an instant hit. 



The tune has become such a rage that #ZaalimaCocaColaPilaDe even started trending on Twitter. But did you know, that Umair and Meesha's song is in fact a reboot of a classic sung by Madam Noor Jehan?

Revealed: Here's the artist line-up for 'Coke Studio 9'

Here, check it out:


Obviously, Madam's original is a lot catchier but we'd say Meesha and Umair haven't done a bad job either. 

Amjad Sabri's Coke Studio debut: The legendary qawwal's parting gift

Even Twitter can't stop humming:


Zaalima, Coca-Cola pila de. Aaj waqai pyaas lagi hai, Shah.

— - (@cutdraftedit) July 18, 2013


https://twitter.com/faheem_memon/status/355369555469664257


@CokePk @CocaCola , I'm in love with you after listening #ZaalimaCocaColaPilaDey ♡♡
Really advertising ka #Level rakhte ho tum☆

— Ajmal Khan Kakkeyzai (@Ajmalkakkeyzai) August 4, 2016
@itsmeeshashafi "Zalima Coca Cola Pila De" Its Fantastic 👏👌😂
U R Awsome❤❤❤
What A Voice ❤❤

— ~Ayesha_Mehak~ (@Call_Me_Meaow) August 4, 2016
Soneya coca cola pila de
Zalimaa coca cola pila de 💝👻

— Talib Hussain (@idgafdafa) August 3, 2016


Mehwish Hayat to make Coke Studio debut in season 9

Oh, and most importantly, the new Coke campaign comes along with a big announcement: Coke Studio Season 9 is kicking off from August 13!

*Wooohooo*

Meanwhile, the ad got us like...