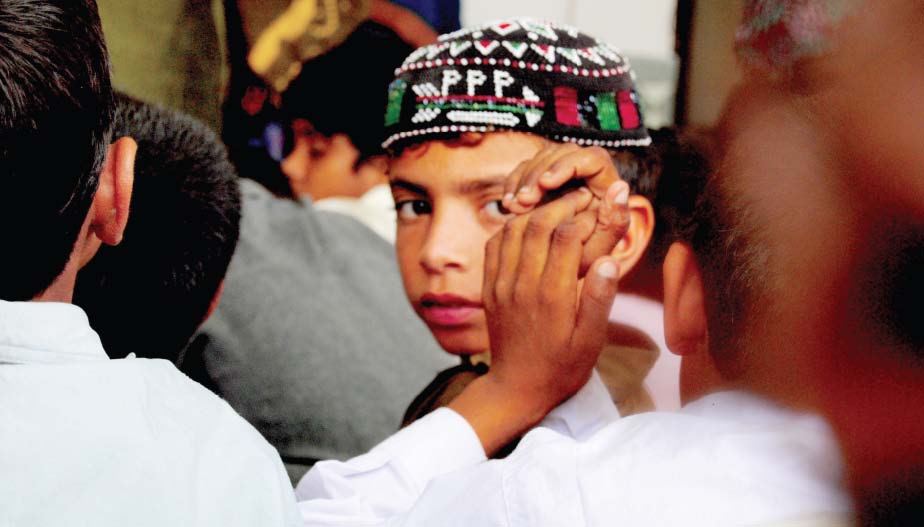 ---
SUKKUR: When Bilal's parents borrowed Rs6,000 from their neighbours to pay for his operation, they did not know that three months later they would be forced to pay almost 33 times the amount.

The once kind neighbours have turned violent, not only attacking Bilal's house several times but also threatening to kidnap his older brother and sisters. Bilal is a five-year-old boy who was born with a cleft lip and no palate (roof of the mouth) in New Pind, Sukkur. His family struggled to collect money to pay for his operation but they were forced to borrow on interest when Bilal needed surgery for a palate.

Rustam, Bilal's father, who used to be a security guard but is now unemployed, borrowed Rs6,000 from his neighbours, who made it clear that they would charge interest on the loan. Three months later, the neighbours are demanding Rs200,000 and have refused to accept anything less than that. "Bilal's health deteriorated in February so we had to borrow the money," Bilal's mother, Sana told Express News, "But when we failed to pay the neighbours the amount they were demanding, they started attacking us."

Sana complained that the police have not provided them any security. In fact, they advised her to pay the creditors when she asked for help. Sana explained that the people they borrowed from belong to the Bugti tribe, which is why everyone, including the police, is scared to take any action. DPO Sukkur Aitzaz Goraya has, however, promised that he will take action against the accused and has directed the SHO to provide protection to the family until the issue is resolved.

Goraya has also ordered an inquiry into the people who are charging exorbitant interest rates. Meanwhile, Bilal's three older siblings have been suspended from their school as the administration feared they will be kidnapped and did not want to take any responsibility. Bilal's family needs Rs50,000 for his surgery but it will be a difficult amount to raise as Sana, who used to teach at a private school, was also laid off. Sana demanded that her family should be spared from these creditors and that her son's life be saved.