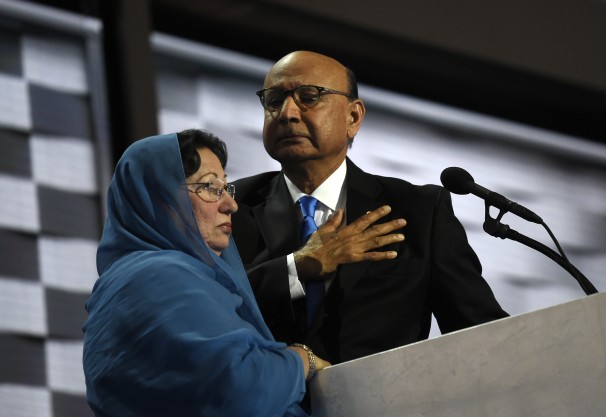 ---
WASHINGTON: The father of a slain Pakistani-American soldier assailed Donald Trump as a "black soul" on Sunday in an impassioned exchange with the Republican presidential candidate over the qualities required in a US leader.

Khizr Khan, a Pakistani Muslim immigrant, electrified the Democratic convention last week with a tribute to his fallen son that ended with a steely rebuke that Trump had "sacrificed nothing" for his country.

Trump defended himself in an interview with ABC's "This Week," insisting he had made "a lot of sacrifices" while suggesting that Khan's wife, who stood silent on the convention stage as her husband spoke, had not been allowed to talk.

But Khan shot back in interviews on US television news shows, while his wife Ghazala explained in a Washington Post op-ed that she had been too grief-stricken to speak.

"Without saying a thing, all the world, all America, felt my pain," she wrote. "Whoever saw me felt me in their heart." Their son, US Army captain Humayun Khan, was killed in Iraq in 2004 in a roadside explosion.

Mother of Pakistani-American war hero says Trump ignorant of Islam, sacrifice

Khizr Khan, speaking on CNN, accused Trump of lacking the moral compass and empathy needed to be the country's leader. "He is a black soul. And this is totally unfit for the leadership of this beautiful country," Khan said.

Trump has courted controversy and sparked outrage during his drive for the US presidency with disparaging remarks against immigrants, Muslims and women.

His call to temporarily ban Muslims from entering the United States has drawn criticism even from leaders of his own party.

Yet Trump has attracted a fervent following among working class white males, and stands near even with Democratic candidate Hillary Clinton in the polls.

In an interview with Fox News Sunday, Clinton took aim at Trump's positive view of Russian President Vladimir Putin and accused him of "absolute allegiance" to Moscow's foreign policy objectives.

Trump responded defiantly, saying in the ABC interview that he had "no relationship" with Putin, but that "if our country got along with Russia, that would be a great thing."

The jousting on policy was overshadowed, however, by the emotional back and forth between Trump and Khan.

"I work very, very hard. I've created thousands and thousands of jobs, tens of thousands of jobs, built great structures. I've had tremendous success. I think I've done a lot," Trump said about his sacrifices.

Trump questioned whether Clinton had been behind Khan's address, which the naturalised Pakistani immigrant said he wrote with his wife.

Clinton accuses Trump of targeting Pakistani-American soldier's parents

He added: "If you look at his wife, she was standing there. She had nothing to say," Trump said. "Maybe she wasn't allowed to have anything to say."

Khan said he had invited his wife to speak, but she declined, knowing she'd become too emotional.

He said running for president does not entitle Trump "to disrespect" the relatives of soldiers killed in combat. "Shame on him! Shame on his family!" he told ABC News. "He is void of decency, he has a dark heart."

Khan called on top Republican lawmakers Mitch McConnell and Paul Ryan to denounce Trump. "They have advised him, they have counselled him... he had promised them to mend his divisive ways, harmful ways, hurtful manner and policies. Yet he comes back again on the same thing," Khan said.

He said it was the Republican leaders' "moral and ethical obligation to... repudiate him, withdraw the support." Both lawmakers stopped short of doing that.

In a statement, Senate Republican leader McConnell called Humayun Khan "an American hero," praised the sacrifices of families like the Khans, and said he agreed with them that "a travel ban on all members of a religion is simply contrary to American values."

House Speaker Ryan noted that many Muslim Americans have "served valiantly in our military, and made the ultimate sacrifice. Captain Khan was one such brave example. His sacrifice -- and that of Khizr and Ghazala Khan -- should always be honored. Period."

In a statement late on Saturday, Trump praised Humayun Khan as "a hero to our country," adding, "we should honor all who have made the ultimate sacrifice to keep our country safe."

But Trump took issue with the father's convention night speech, including his claim that the billionaire candidate had never read the US constitution.

'You have sacrificed nothing and no one': Father of Pakistani-American war hero to Trump

"While I feel deeply for the loss of his son, Mr Khan, who has never met me, has no right to stand in front of millions of people and claim I have never read the constitution" and "say many other inaccurate things," Trump said.

Clinton criticized Trump's treatment of the Khans during a campaign stop. "Mr Khan paid the ultimate sacrifice in his family, didn't he?" she told an African American church congregation in Cleveland, Ohio.

"And what has he heard from Donald Trump? Nothing but insults, degrading comments about Muslims, a total misunderstanding of what made our country great -- religious freedom, religious liberty.

"It's enshrined in our constitution, as Mr Khan knows, because he's actually read it."