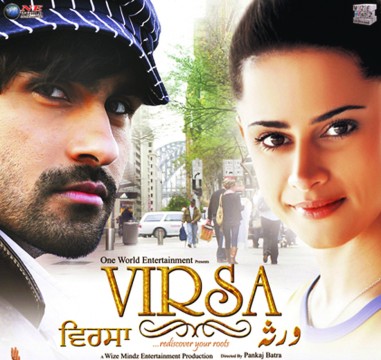 ---
LAHORE: 'Wherever a person lives, he should never cut off from his virsa (tradition) or he will neither belong to the place he comes from nor will he be settled in his adoptive country'.

This quote by Gulshan Grover in the Indo-Pak joint Punjabi production Virsa signifies the theme of the film. Jointly produced by Jawad Ahmad, Pankaj Batra and Vikram Kakar, Virsa's storyline is based on the themes of love and traditional values. The film, which premiered in Lahore on Thursday night, focuses on Nawaz Ali (Nauman Ejaz) and Ranvir Singh Grewal (Kanwaljeet Singh) and their families.

Nawaz Ali hails from Pakistan and Ranvir Singh Grewal comes from a village in the Indian Punjab. They migrated to Sydney, Australia 20 years ago and became close friends. But while Ali is more inclined towards traditional values, Grewal prefers to adopt the values of his new country. (However, he capitalises on his roots by opening an Indian restaurant).

But as with all great friendships in Indian and Pakistani films, a fight is in store. Grewal decides to marry an Australian girl (even though he is already married) but Nawaz Ali tells the girl about him on their wedding day. She runs away and dies in an accident, leading to the two friends parting ways. The film then focuses on the children of Grewal and Ali. Grewal's father, who has come from India with high hopes, works at the restaurant and often weeps about his son's condition.

Grewal's son Yuvi (played by Arya Babbar) is a flamboyant character who falls in love with an Indian girl, Mahi (Mehreen Raheel). But thanks to a twist in the storyline involving Yuvi, Grewal and Nawaz Ali meet again. Will they become friends again? Predictably enough, they do, and the cast lives happily ever after. While the film's soundtrack has won it kudos, Virsa could have benefitted from an improvement in its technical aspects, as well as make-up.

One of the highlights of the film was Gulshan Grover, who is extremely wellknown on both sides of the Wagah border for the numerous negative roles he has essayed in Bollywood films. Nauman Ejaz and Mehreen Raheel also tried to do justice with their roles, while Arya Babbar's acting was average.

Though Virsa made a strong statement about remaining true to one's values, culture and upbringing even as we constantly adapt and adjust to the society around us, it left many patches unanswered in its storyline. At several occasions, one felt the sequence of the film had gone awry, however the acting of the cast and the soundtrack will help draw in an audience.
COMMENTS (8)
Comments are moderated and generally will be posted if they are on-topic and not abusive.
For more information, please see our Comments FAQ