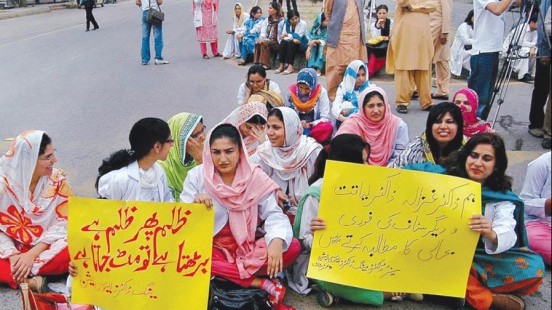 ---
ISLAMABAD: Doctors at Pakistan Institute of Medical Sciences (PIMS) continued their strike for the seventh day in a row on Wednesday.

The Out Patient Department (OPD) remained closed as the doctors blocked the main road in front of the hospital between 11 am to 1 pm. They also burnt tyres and demanded that the government restore Dr Ghazala Mehmood as the executive director of the hospital.

Dr Mehmood was removed from her office after Pims' nurses went on a strike last week alleging that she had verbally abused them and asked the guard to "slap and throw them out of the office".

Patients, coming from far flung areas, were turned away as there were no doctors to attend to them. A senior doctor, on condition of anonymity, recalled an old lady who had come from Rawat to get her daughter – a TB patient – checked. "I met her [the mother] at the main gate of the hospital at around 9:45 am and told her to go back as no doctor was available to assist her," he said.

"We are not happy doing this but we have to do it to get justice," he added. Dr Sajid Abbassi, President Young Doctors Association Pims, said, "Being doctors we really feel bad and sorry for [turning back] all the patients coming to Pims." He further said that all doctors had a meeting on Tuesday to discuss the strike, while senior doctors wanted to change their protest to a token strike. He said the younger doctors opposed the suggestion, insisting they would continue to observe a complete strike.

There are no signs of the matter being resolved any time soon, either. "The inquiry committee set up by the Ministry of Health is scheduled to present its report next week, after which a decision on Dr Mehmood's restoration will be taken," said Dr Rasheed Jooma, director general at the Ministry of Health.
COMMENTS
Comments are moderated and generally will be posted if they are on-topic and not abusive.
For more information, please see our Comments FAQ