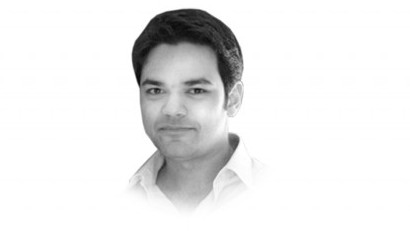 ---
The arrest of a Pakistani allegedly involved in the failed Times Square bombing happened on the same day as Ajmal Kasab's conviction for the Mumbai attacks. During the trial Kasab implausibly denied any involvement in the attacks (retracting an earlier confession saying that it was made under duress) and the Pakistani government was initially ambivalent on a number of issues relating to the massacre. But there seemed to be incontrovertible proof against him in that he had been photographed with a weapon.

The history of extremism based in Pakistan, and the official hypocrisy relating to it, is long and complex. I'll try and keep the recounting short, say a decade or so.

After illegally seizing power in October 1999, Pervez Musharraf undertook steps to eradicate corruption and extremist violence as part of his so-called 'seven-point agenda'. These were, according to him, the most critical issues facing the country. One can assume this was his manifesto for a nation that was relieved and overjoyed by the ouster of a legitimate, but illegally ousted, prime minster. There was dancing in the streets, distribution of heavily fried sweets and celebratory firing (why is this form of celebration common mostly among Muslims?) by those who don't even fully understand the laws of gravity. Even the 'educated class' was pleased over the death knell of amendment that Nawaz Sharif had wanted to bulldoze through parliament.

While some convictions for corruption came through NAB, some of those that feared their incarceration and trial under the regime managed to escape from the country. And some became federal ministers in Musharraf's cabinet after their safe return through official channels. Ultimately, Musharraf's promise to bring the corrupt to book was nullified by his personal diktat.

"We abhor terrorism and shall actively work against violent extremism on our soil and beyond, in all its forms and manifestations," Musharraf said publicly several times. Yet violent extremists, such as Hafiz Saeed, calling openly for more effective terrorist attacks, were given free reign and allowed to hold massive public rallies in Pakistan, armed to the teeth, some a stone's throw from GHQ under the General's watch. This was post 9/11, when Musharraf overtly reversed Pakistan's earlier naive policy of supporting the Taliban.

To clarify, this writer opposed the abhorrent government Musharraf deposed through his illegal couppublicly, in the press. In The Divine Comedy, Dante wrote: "long is the way and hard, that out of hell leads to light." Well, we may be in a dark, damning place. We created this for us — not America (which has invaded over 29 countries since World War II) or India (which annexed large parts of the sub-continent illegally at post-partition) or Afghanistan which was the only country to oppose our application to become a member of the United Nations.

We have invaded, annexed and excluded ourselves. And we did all this to ourselves.
COMMENTS (4)
Comments are moderated and generally will be posted if they are on-topic and not abusive.
For more information, please see our Comments FAQ