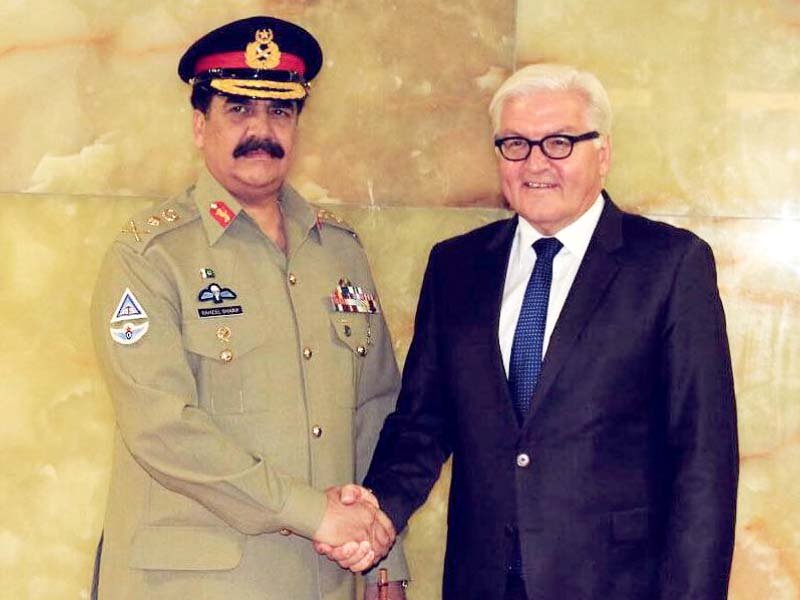 ---
ISLAMABAD: Army chief General Raheel Sharif has said that Pakistan's sacrifices in the war against terrorism and extremism are matchless, and the international community should "stand by us till dividends are fully realised".

"Terrorism has morphed into a global phenomenon and warrants a global response. In order to effectively win, synergy by all is required," he said at an interactive session in the Koerber Foundation, a renowned German think-tank, in Berlin on Tuesday.

Pakistan's fight against terror a 'role model'

The army chief was on a two-day official visit to Germany where he met military and political leadership. He will now travel to Czech Republic on a daylong trip.

According to the ISPR, Gen Raheel explained in detail the challenges faced by Pakistan and its contribution to peace and stability in the South Asian region.

Pakistan is successfully closing up to the conclusion of the 'kinetic prong' of Operation Zarb-e-Azb, he said. Pakistan Army has cleared the entire tribal belt up to its borders with Afghanistan and has busted the militants' linkages and networks.

"We have sacrificed immensely, more than any other nation. World needs to stand by us till dividends are fully realised," the army chief was quoted by DG ISPR Lt Gen Asim Bajwa as saying in a series of Twitter messages. "An objective and candid discourse [was held at Koerber Foundation] on our environment and security issues."

Earlier, the army chief also met German Foreign Minister Frank-Walter Steinmeier, who acknowledged Pakistan's contribution in the war against terrorism and its efforts to ensure regional peace.

According to the ISPR, Gen Raheel and Steinmeier held discussions with a focus on bilateralism as well as issues of regional security and peace in region.

Jordanian King lauds Pakistan's efforts in fight against terror

"The German FM said Germany understands Pakistan's challenges, and assured full support for Pakistan efforts for stability and peace in the region," Lt Gen Bajwa wrote on his official Twitter handle.

A day earlier, the army chief had had a meeting with Defence Minister Ursula von der Leyen and the German army chief. "Bilateral military-to-military relations, enhanced defence and security cooperation, and training exchanges came under discussion," the ISPR said on Monday.

Von der Leyen specially appreciated the army chief's consistency and will in fighting terrorism. She also acknowledged Pakistan Army's accomplishments in war on terror. "German military leaders showed interest in learning from Pakistan military's experience."

Published in The Express Tribune, June 22nd, 2016.