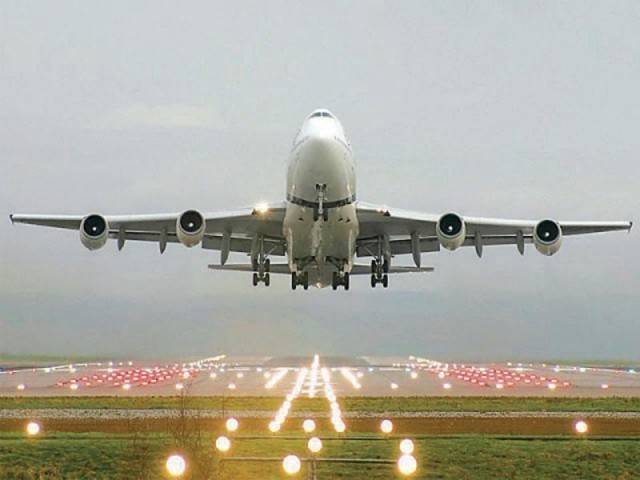 ---
ISLAMABAD: Senate on Friday debated the faulty design of the new Islamabad airport and that the government has not moved against the designers and contractors.

Senator Nauman Wazir pointed out faulty design of the airport during Friday's session. He told the House that the distance between two runways of the airport was shorter than what international specifications stipulated. This means that at a time, only one aircraft could land at the airport.

Islamabad airport to be completed by year-end, Senate told

He lamented that the government has yet to take action against the designers, builders and engineers of the airport despite the flaws. He demanded an investigation.

After listening to arguments from the members, Senate Chairman Raza Rabbani referred the matter to the concerned standing committee to give its report in the first week of the upcoming session.

Energy efficiency and conservation bill

A report on the national energy efficiency and conservation bill, 2016, was presented by the committee chairman Senator Sardar Yaqoob Khan Nasar in the House.

"The conservation and efficient use of energy is pivotal for the development of Pakistan," reads the report.

"It [Pakistan] has great potential to alleviate the adverse effects of shortage of energy supply causing serious energy crisis in the country and for this purpose, it is imperative to establish institutions and stipulate mechanisms and procedures for effective conservation and efficient use of energy in Pakistan,".

Senator Wazir explained that the Senate had referred the bill to the committee, which in turn constituted a sub-committee. But the report was presented in the house without including the sub-committee's recommendations owing to a procedural fault.

The Senate chairman reminded that the bill was due to lapse before the next session of the House, hence the committee rushed through the report otherwise the bill will have to be referred to a joint session for approval. However, the chairman discouraged such practice in the future.

The Senate, however, passed the bill. It also passed the Deposit Protection Corporation Bill, 2016.

Fiscal responsibility, debt limitation bill withdrawn

The government withdrew a bill to amend the Fiscal Responsibility and Debt Limitation Act, 2005 [The Fiscal Responsibility and Debt Limitation (Amendment) Bill, 2016].

New Islamabad airport embroiled in problems

Leader of the Opposition Aitzaz Ahsan said the government has agreed to place it before the senate, however, it was decided that while the bill may pass, it will not be a money bill.

Minister for Law Zahid Hamid, however, argued that it was a money bill.

"There is no doubt that this is a money bill," he said, referring to Article 73 of the Constitution to substantiate his point.

Leader of the Opposition Ahsan reminded him that the Senate Standing Committee of Finance has recognised that it is not a money bill.

Published in The Express Tribune, June 18th, 2016.
COMMENTS (10)
Comments are moderated and generally will be posted if they are on-topic and not abusive.
For more information, please see our Comments FAQ