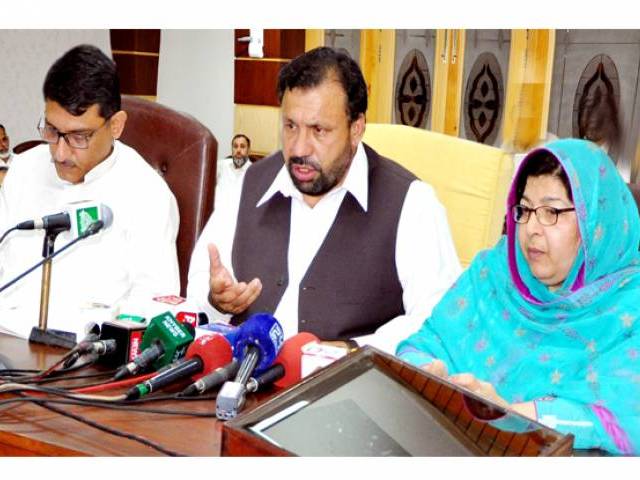 ---
PESHAWAR: The finance minister and secretary have admitted to having pitched the outgoing year's budget on overestimated revenue figures which resulted in financial crises throughout the year.

"We have realised we put overestimated targets in the outgoing year which could not be achieved," said Finance Secretary Ali Raza Bhutta while responding to questions regarding borrowing of Rs12.2 billion from banks to meet budget needs. "We had pitched Rs52 billion from the Net Hydel Profit arrear outstanding against the federal government which could not be achieved. The federal government has yet to transfer the Rs25 billion of the NHP arrears for the current year, as agreed under an agreement between the Centre and K-P in February."

He was speaking at the post-budget briefing session on Wednesday at Civil Secretariat, Peshawar.




He added they overestimated around Rs14 billion from the general sales tax (GST) which could not be achieved. "That is why we have put Rs10 billion for the next year," he said, claiming to have pitched the new budget on realistic figures.

Sure this time

However, Bhutta and finance minister, Muzaffar Said, refuted the notion that the budget for 2016-17 in in deficit. They said borrowing money for development purposes is the constitutional right of provinces after the 18th Amendment.

K-P finance minister says no funds left to spend

"We are paying the past loans taken by the federal government but the province itself has not taken loans yet. We will take it when needed and it will be done in a transparent manner at competitive rates," Bhutta said.

Said explained the budget is not in deficit because the province has outstanding liabilities against federal government if provided on time. "Our budget is dependent 90% on federal government transfers," he said. "We faced severe revenue shortfall in the outgoing year due to shortage in revenue transfers from the federal government. We were forced to reduce our ADP."

Highlights

Earlier Said presented the highlights of the budget which he presented before the K-P assembly on Tuesday. The government has set a budget of Rs505 billion for the fiscal year 2016-17.

"We achieved many milestones in our three years of government and took steps for resolving problems of the public."

He added the government has divided its budget in three portions, including welfare, administrative and development.

About the Annual Development Programme fund utilisation, Bhutta said, "We expect close to 100% utilisation of ADP as departments spend most of their funds in June." He added, "At least we will utilise 90% of the ADP," claiming the ADP is not going to lapse.

To a question regarding heavy utilisation of ADP only in June, Said said, "The contractors' liabilities against the government are huge. May be the utilisation is more than 90% now."

Published in The Express Tribune, June 16th, 2016.