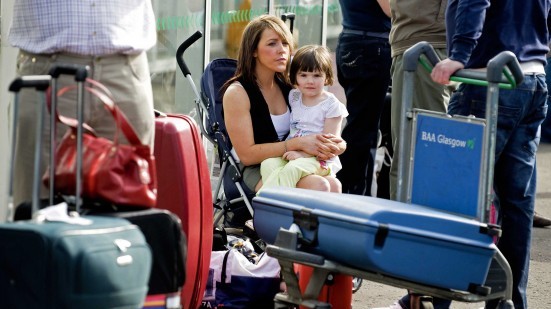 ---
LONDON: Britain and Ireland grounded flights again on Wednesday after a fresh cloud of ash swept in from the Icelandic volcano which sparked unprecedented air travel chaos in Europe last month.

In a second day of renewed airspace disruption, thousands of passengers in Scotland, Ireland and Northern Ireland were forced to cancel travel plans. "We are feeling disappointed as we were looking forward to it, and I don't think we'll be able to rearrange it," said Mabel McGeachie, 62 whose easyJet flight from Glasgow to Malaga in Spain was cancelled.

British regulators imposed a flight ban from Scottish and Northern Irish airports from 7:00 am (0600 GMT) for 12 hours for most affected airports, warning that high ash levels could damage plane engines. Irish authorities, who stopped flights for several hours on Tuesday, also closed airports progressively from 0600 GMT, while saying transatlantic and other planes could still fly over at higher altitudes.

"The volcano in Iceland has expelled denser, coarser ash higher into the atmosphere," said the Irish Aviation Authority (IAA), adding that Dublin airport would remain closed until at least midnight (2300 GMT). Britain's Civil Aviation Authority (CAA) added: "Forecasts show that levels of ash in the atmosphere over Scotland and Northern Ireland will exceed the concentrations that engine manufacturers have agreed are safe for operations."

While the flight ban would remain in place for the rest of Wednesday, the CAA said it hoped the restrictions could be lifted on Thursday. "We are pretty confident that the ash plumes will start drifting west across the Atlantic and that all UK airspace will be clear of ash tomorrow," said a CAA spokesman. "It's possible that if the strength of the wind picks up then some of the airports not operating at the moment might be able to handle flights later today. But it's certainly looking good for tomorrow."

The new shutdowns followed a closure of Irish, Northern Irish and some Scottish airspace for several hours Tuesday, causing the cancellation of hundreds of flights and travel misery for thousands of passengers. Airspace across Europe was closed for up to a week last month after the eruption of Iceland's Eyjafjoell volcano, but was re-opened after emergency talks between European governments, airlines and regulators.

The aerial shutdown was the biggest in Europe since World War II. In Iceland itself Tuesday, the Eyjafjoell volcano spewed more ash than in recent days, although the level remained much lower than when the eruption began three weeks ago, an Icelandic geophysicist told AFP. "The plume has increased. It is black... There is more ash in the plume and it is (rising) higher," Sigrun Hreinsdottir of the University of Iceland in Reykjavik said Wednesday.

Irish airline Aer Lingus said the flight ban last month had cost it about 20 million euros (26 million dollars), while warning that "the final cost will depend on the actual level of customer claims." The Association of British Insurers estimated Tuesday that the travel chaos caused by the ash had cost insurers around 62 million pounds (94 million dollars, 72 million euros).

Eurocontrol, the continent's air traffic control co-ordinator, said more than 100,000 flights to, from and within Europe had been cancelled between April 15 and 21, preventing an estimated 10 million passengers from travelling.
COMMENTS
Comments are moderated and generally will be posted if they are on-topic and not abusive.
For more information, please see our Comments FAQ