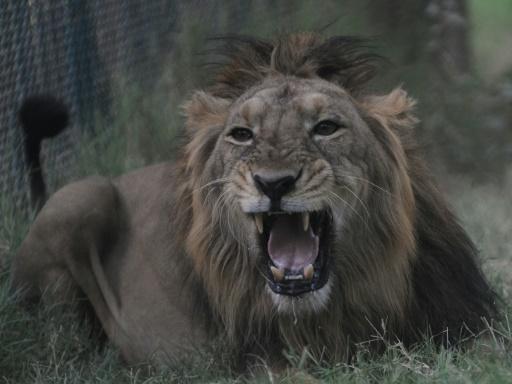 ---
AHMEDABAD, INDIA: Forestry officials in western India may have identified a man-eating lion suspected of a spate of attacks, they said Wednesday, after finding traces of human hair and tissue in the animal's faeces.

Seven lion attacks in villages near the Gir wildlife sanctuary in Gujarat state have killed three people since March, while four victims have suffered serious injuries.

A pride of 17 endangered Asiatic lions, which only live in the forest in Gujarat, have been captured in the past month.

World tiger count rises for first time in 100 years

Officials have been monitoring the big cats' behaviour and examining their faeces to identify the culprits.

"The scat analysis, that is an analysis of lion excreta, has shown remains of human hair and tissue in at least one of the lions captured," U.A. Vora, a forest conservator, told AFP.

"This lion has been isolated and will be kept in isolation in captivity forever," he said.

Vora said that even with the discovery of human tissue, the animal would undergo further investigations to establish whether it deliberately attacked humans.

Troops clear wild animals from Sri Lanka's white-elephant airport

He said forestry officials have undertaken a "massive" awareness drive to warn people living in villages about the lions, telling them not to sleep in open fields.

One wildlife expert told AFP the lions may have attacked because a rising human population had blocked their natural corridors -- the route by which lions move from one area to another in search of prey.

"The government needs to come up with a long-term plan to open these blocked corridors to stop human-animal conflict," independent expert Divyabhanu Singh said.

In May a 14-year-old boy was killed by a lioness in a mango orchard in the district's Ambardi village, with his father also injured in the attack.

In April a lion killed a 50-year-old woman in a nearby village as she slept in an open field.

Asiatic lions, slightly smaller than their African cousins and with a fold of skin along their bellies, have been increasing in numbers in Gir, with 523 recorded in the latest census.

Conservationists have suggested some of the lions be relocated to a different sanctuary, to reduce human-animal conflict and avoid their being wiped out by disease or natural disaster.

The Asiatic lion was listed as endangered in 2008, up from critically endangered in 2000, after numbers improved in the forest.