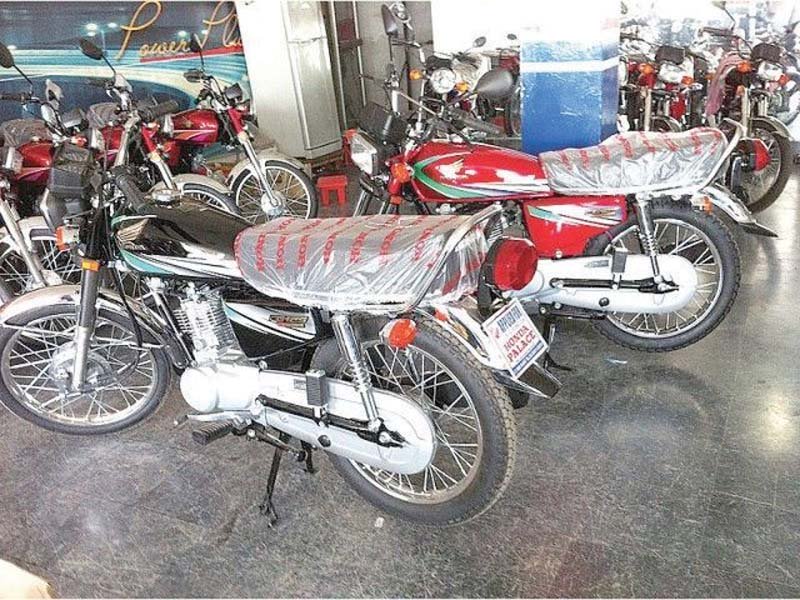 ---
KARACHI: Banks have historically been shy of extending credit, especially when dealing with non-corporate and non-government clients – a middle income client seeking credit for purchasing a motorcycle would usually be turned away.

Lack of security and high-interest rates were blamed that pushed the risk of default high. However, a better security climate and historically low interest rates have pushed banks towards changing their stance such that they are competing against one another for clients.

Atlas Honda to increase motorcycle production

Background

After showing remarkable growth for over a decade, increase in motorcycle sales in Pakistan came to a halt, stagnating at around 1.7 million units since 2010-11. However, its sales have jumped significantly in the last one-and-a-half years, touching a record 1.91 million in 2015.

For the last few years, heavy-duty and branded motorcycles like Suzuki 150cc, Yamaha YBR125 and Honda CG125 were gaining popularity. The price of these bikes ranged from Rs135,000 to Rs140,000. Looking at their price range and durability, banks were taking interest in bike financing, according to a response from Meezan Bank (when asked about the surge in motorcycle financing.

It's not the case that bike financing was unprecedented in Pakistan. The credit facility has been in place, but the renewed and increased interest is something new.

Changing time

MBL, like other banks, is in Bike Ijarah or bike financing for a few years now.

"Looking at the growing potential amid increasing needs of bikes in Pakistan – especially in urban areas as a basic need for working middle class – the bank re-launched it as a separate unit with a dedicated team in January 2016," the management of MBL informed.

Atlas Honda Limited: New line of motorcycles to roll out by October

In the first phase, MBL signed an agreement with Pak Suzuki in Dec 2015. "After successful launch of Bike Ijarah with Suzuki, we are now increasing our menu by introducing Honda bikes. The Memorandum of Understanding (MoU) has been signed with Atlas Honda and we are also very close to bringing Yamaha on board as well," the bank added.

Replying to a question, MBL said that the bank offers Bike Ijarah to two segments i.e. salaried and business individuals. However, the management said that it got a much better response from salaried individuals that earned between Rs30,000 and Rs60,000 per month.

Other banks were also launching similar schemes. Recently, United Bank Limited (UBL) went a step ahead while offering motorcycle financing with zero per cent mark-up rate for the first six months. One of the Japanese manufacturer claimed that his clients' credit needs were catered by Askari Bank, Bank Alfalah, MCB Bank, HBL, Bank of Khyber and Khushhali Bank.

Pakistan's motorcycle industry is broadly divided between Chinese and Japanese manufacturers. But banks only deal with Japanese players (Yamaha, Atlas Honda and Pak Suzuki) because it is easy for them to deal with well-documented companies instead of Chinese assemblers, comprising of small players that fall in the informal sector.

"Banks are not involved with informal or Chinese motorcycle manufacturers. They are more comfortable with the organised bike makers that are mostly Japanese," Association of Pakistan Motorcycle Assemblers Chairman Sabir Shaikh told The Express Tribune.

Chinese assemblers first introduced bike financing in Pakistan in 2006, which helped them compete against and thwart Japanese manufacturers in Pakistan. However. with growing incomes, the situation is now fast changing as Japanese are regaining their market share, a trend further reinforced with the re-entry of Yamaha in Pakistan in 2015.

At the Zenith: A solo motorcycle trip through Pakistan

"Even if Japanese bike makers succeed in selling 10% of their bikes through financing, it will be a big success for them because I think their dealers are too weak," said Shaikh, who mostly deals in Chinese bikes in Akbar market, one of the biggest bike markets in Pakistan.

Market analyst say one of the key reasons why banks are now taking an interest in bike financing is that they anticipate a fall in their own incomes in coming months due to record-low interest rates, something that augurs well for citizens pursuing bike financing.

The writer is a staff correspondent

Published in The Express Tribune, June 13th, 2016.

Like Business on Facebook, follow @TribuneBiz on Twitter to stay informed and join in the conversation.
COMMENTS (2)
Comments are moderated and generally will be posted if they are on-topic and not abusive.
For more information, please see our Comments FAQ