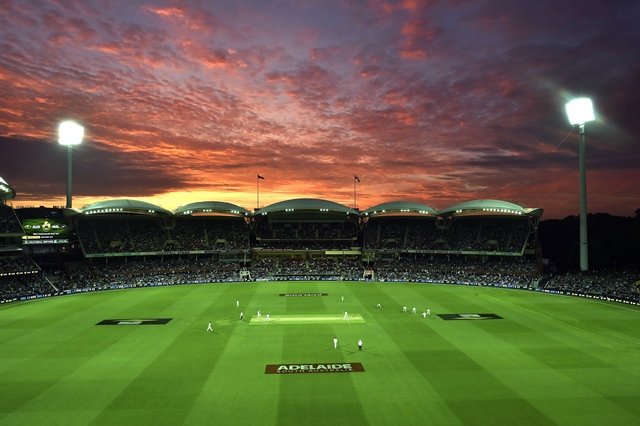 ---
SYDNEY: South Africa have overcome their reservations and agreed to play a day-night pink ball Test against Australia in Adelaide this year, cricket chiefs announced Wednesday.

Australia unveiled plans for day-night Tests against South Africa and Pakistan in April, but admitted player concerns about the experimental format meant the Proteas' fixture was not locked in.


Junaid mulling swapping England for Pakistan


It is now confirmed for November 24-28.

"This announcement will further fuel the excitement about what promises to be a fascinating series between formidable rivals," said Cricket Australia (CA) chief executive James Sutherland.

Cricket South Africa chief Haroon Lorgat said the decision was made after talks with players, who initially feared they would be disadvantaged by having no experience under pink ball conditions.

"Following careful consideration and engagement with all our Test players, and recognising the need to exploit the potential of playing day-night Test cricket, I am pleased to announce that we have agreed with CA to proceed with this fixture," he said in the same statement.


England reach for the whitewash against Sri Lanka


"Our players were initially hesitant to play such a key Test match without previous experience and adequate preparation but after working through all their concerns and possible options to prepare sufficiently, there is newfound excitement for this novel Test match.

"Our players deserve credit for the way they have worked through the issues which were clearly not insignificant," he added.

The day-night Tests using a pink ball, designed to be more visible under floodlights, are a central part of Australia's home international schedule for 2016-17, which also features limited-overs matches against Pakistan, New Zealand and Sri Lanka.


Sri Lanka's Perera eager for return at Lord's


Administrators regard the inaugural day-night Test against New Zealand in Adelaide last season as an outstanding success, attracting 123,000 spectators and an average television audience of two million.

However, players from both sides complained about the pink ball's movement and durability, as well as the difficulty batsmen faced seeing it under lights.

South Africa play the first Test against Australia in Perth from November 3-7, followed by a second in Hobart before the Adelaide day-nighter.

Pakistan also play three Tests in Australia this summer, with a day-night Test in Brisbane.
COMMENTS
Comments are moderated and generally will be posted if they are on-topic and not abusive.
For more information, please see our Comments FAQ