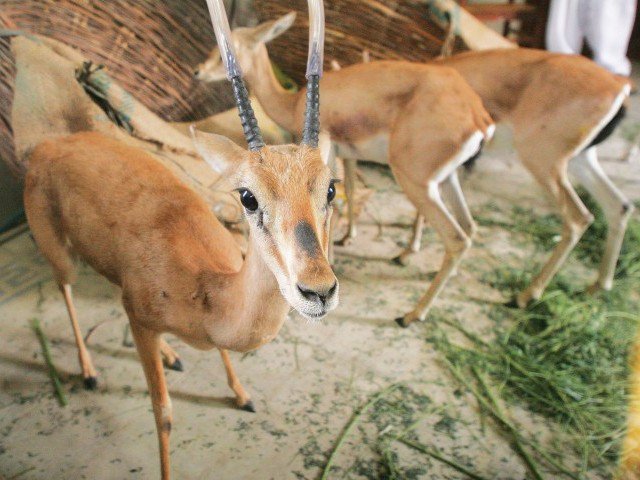 ---
LAHORE: "Nature has a way of balancing out all species that it supports. However, our over-consumption has highly disturbed this self-sustaining system, Minister for Environment Zakia Shahnawaz said on Monday at a seminar to mark the World Environment Day.

Speakers at the seminar spoke about campaigns against poaching of wild animals and the black market surrounding illegal wildlife trade. The seminar aimed to highlight the status of wildlife in Pakistan.

The minister said several indigenous wild animals in the country were endangered and some of them had been declared extinct. "The main reasons for this are poaching fuelled by greed and hunting for pleasure."

She called for everyone to condemn the "senseless murder of wild animals". Hunting, if carried out in a sustainable manner, doesn't necessarily damage the ecosystem, Shahnawaz said.

"I grew up in Essa Khel, near the Indus River. I remember seeing dolphins in the river," she reminisced. "You couldn't enjoy that beautiful sight anymore…the dolphins of Indus River are now an endangered species."

Warda Javed, project coordinator at the World Wildlife Fund Pakistan, explained that illegal wildlife trade involved the sale and purchase of wild animals protected under law. "Illegal wildlife trade is a problem as it leads to the exploitation of endangered species and can result in their extinction," Javed said.

She said the illegal trade was criminalised by the United Nations on January 3, 2015, on the occasion of the World Wildlife Day. The UN has urged governments around the world to enforce penalties and to introduce measures to remove incentives around organised wildlife trade, she said.

"It is the fourth most lucrative illegal trade, falling closely behind drugs, forgery and human trafficking," Javed said.

The current estimated population of the Indus River dolphin is 1,452, she said. They face a plethora of threats and exist in fragmented groups confined between six barrages and dams built over the river, she said.

The WWF is currently involved in a conservation project in which 113 dolphins were rescued last year.

She said 34 of them had died.

Punjab Wildlife Department Director Naeem Bhatti said that the department had been engaged in various activities to protect and preserve wildlife in the Punjab.

He said that the department had been lately focusing on curbing wildlife trade by introducing stricter penalties. "One of the species we focus most on is falcon…it has a huge illegal market in Pakistan."

Bhatti told the audience that department officials had recently released into the wild a consignment of around 30 falcons to ensure their propagation.

Published in The Express Tribune, June 8th, 2016.