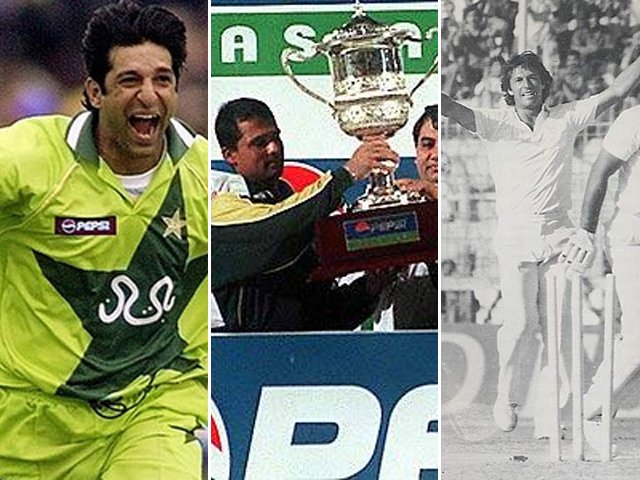 ---
There are a very few dates in Pakistan cricket history such as June 3 where three events of magnanimous proportions took place in different years.

The Express Tribune takes a look at the events which changed or promised to change Pakistan cricket for better on this day.

Wasim's arrival in the world

June 3, 1966 saw the birth of an impending legend Wasim Akram. A left-arm fast-bowler who will be known as the one of the sultans of swings; he will go on to become a phenomenon in his own capacity.


From the vault: Wasim Akram nearly kills a Kiwi


Since his debut in ODIs in 1984 till the time he walked away from the format in 2003, he will account for 502 batsmen. The world will not see someone like him again.




He will also adorn the Whites for his country and bag 414 wickets in just 104 outings.

But his heroics will not only be limited to his achievements with the ball. His batting ability will also make him one of the most dangerous operators with the willow down the order. He will accumulate 3,717 runs in 356 ODIs, while in Tests, he will score an unbeaten double ton to pile up 2,898 runs in 104 matches.


From the Vault: When Aamir Sohail lit-up Old Trafford


He will also lift the World Cup trophy and play a significant role in the victory. His two unplayable deliveries to England's Allan Lamb and Chris Lewis will turn the tide in his team's favour as the name of Pakistan will be etched of the 1992 50-over World Cup trophy for the first and the last time till now.

Wasim turns 50 today but the memories he compiled for Pakistan will stay longer than ever in the hearts of the cricket fans.



On this day: When minnows conquered legends


Imran's real Test

On June 3, 1971, Pakistan's World Cup winning captain Imran Khan played his first Test. However, like many other greats, his debut in the five-day format will not reap great fruits for the legend. A score of five in the first innings and 28 wicket-less overs will tell a sad story of his first Test.





However, when the right-arm bowler will end his career after 88 Tests, he will have 362 wickets written in the unfilled column.




From the vault: Shoaib Akhtar's demolition Durban


Apart from his contribution with the ball, Imran will also maintain and average of 37.69 in Tests with the bat. Six centuries by the right-hand batsman will help him score 3,807 runs in his five-day outings for Pakistan.

His all-round heroics earned him a place among the best all-rounders of all time.


Asia Cup victory over India

Since the inception of the Asia Cup in 1984, Pakistan, for the first time, was in imperious form throughout the tournament.

From the vault: When Amir made Australians walk in and walk out

They started off their campaign against Bangladesh, beating them by a huge margin of 233 runs. Pakistan set a mammoth 321-run target, while Bangladesh could not even manage to go past the 100-run mark and were all-out for 87.




Pakistan carried the momentum forward into the match against India where Muhammad Yousuf (then Yousuf Youhanna) scored an unbeaten 100 off 112 balls to guide his side to a total of 295-7.

Sourav Ganguly-led Indian side was ready to say goodbye to Muhammad Azharuddin and Ajay Jadeja after this match and the former didn't cause much damage as he was accounted by Abdul Razzaq on one.


On this day: When all was Saeed and done against India


Jadeja, meanwhile, went on to trouble the likes of Wasim, Muhammad Akram, Razzaq, Shahid Afridi, Arshad Khan and Azhar Mahmood to score 93 runs. His luck, however, ran out when he was stumped on a delivery bowled by part-time bowler Imran Nazir.

Pakistan won the match by 44 runs on this day 16 years ago and then went on to beat Sri Lanka in the final by 39 runs to lift the Asia Cup for the very first time.

https://www.youtube.com/watch?v=Gps4A1yHOHY
COMMENTS (1)
Comments are moderated and generally will be posted if they are on-topic and not abusive.
For more information, please see our Comments FAQ