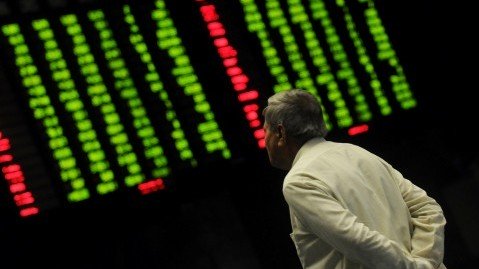 ---
KARACHI: Stocks ended higher on Wednesday on increased foreign buying, particularly in the energy sector, dealers said.

The Karachi Stock Exchange's benchmark 100-share index rose 0.90 per cent, or 93.98 points, to end at 10,561.74. "Foreign flows and stabilising economic indicators were the primary driver for the investor affinity for the most liquid stocks in the market," said Asad Iqbal, chief investment officer at Faysal Asset Management.

Investor confidence was also boosted when the central bank said it had received the remaining $486 million from the United States in compensation for some of its costs in battling militancy, dealers said. The State Bank of Pakistan received the first $188 million from the United States last Friday.

Inflation has been coming down and increased foreign inflows would increase foreign exchange reserves, dealers said. According to official data, foreigners bought shares worth a net $9.25 million on Tuesday and a net $4.96 million on Monday, "despite worries regarding Greece and Spain's debt issues in the international markets," said Muzzamil Mussani, an analyst at JS Global Capital. Wednesday's trade volume dropped 4.8 per cent to 120.5 million shares from Tuesday's tally of 126.6 million shares.

Blue-chip Oil and Gas Development Company (KSE: OGDC) entered the volume leaders list for the first time in many months while some activity in the oil, cement, fertiliser and banking sectors was also witnessed. The total exchange value stood at Rs6.44 billion, more than 16 per cent higher than Tuesday's Rs5.55 billion. During the day's trade, 193 stocks closed higher, 222 stocks declined and 18 stocks remained unchanged in value. OGDC was the volume leader with 11.33 million shares gaining Rs4.04 to close at Rs138.

Azgard Nine (KSE: ANL) came second with 8.75 million shares losing Rs0.09 to close at Rs16.25. Jahangir Siddiqui Company (KSE: JSCL) finished third with 6.52 million shares closing on its upper-circuit breaker at Rs18.74. The energy sector was in the limelight with the Oil and Gas Development Company, the heaviest weighted company and the market volume leader for Wednesday, gaining 3.02 per cent.

Jahangir Siddiqui and Company was KSE-100's top gainer of the day, its share price rising 5.64 per cent. Lafarge Cement Pakistan (KSE: LPCL), yesterday's top gainer, was in the losers list dropping 7.56 per cent to Rs3.62. Pakistan Refinery (KSE: PRL) closed in the red, its share price shedding 2.81 per cent to close at Rs109.08.
COMMENTS
Comments are moderated and generally will be posted if they are on-topic and not abusive.
For more information, please see our Comments FAQ