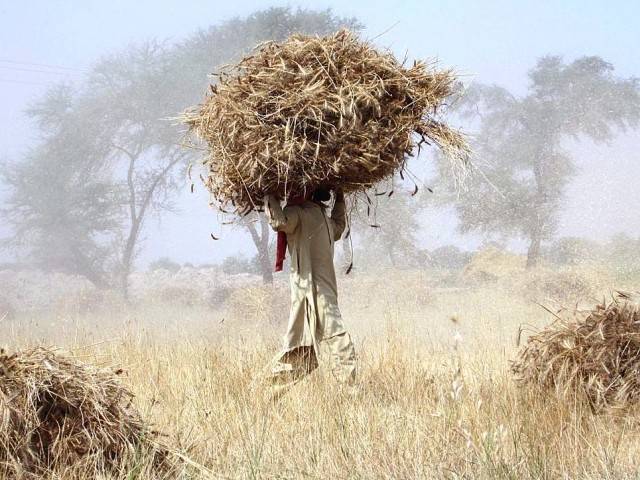 ---
ISLAMABAD: Casting a dark shadow on an otherwise positive economic survey, the performance of the agricultural sector left a depressing effect on Pakistan's GDP growth for the outgoing fiscal year.

During Thursday's presentation of the economic survey, Finance Minister Ishaq Dar revealed the sector registered a negative growth of 0.19% against a 2.53% increase recorded during the same period last year.

According to the survey, production of crops declined by 6.25% , while the other sub components of agriculture sector like livestock, forestry and fishing posted positive growth of 3.63%, 8.84% and 3.25%, respectively.




The major blame behind the decline in crop production was attributed to the performance of the country's three main sub sectors; important crops, other crops, cotton ginning. Production for these declined by 7.18%, 0.31% and 21.26%, respectively.

According to Dar, weak figures of cotton production, which witnessed a decline of 27.8% and went down from 13.96 million bales in fiscal year 2015 to 10.074 million bales in the current year, shaved off a precious increase in GDP growth.

In light of the below par performance of the sector, Dar announced that the government will be awarding a robust package in the budget 2016-17 for improvement in the agriculture sector.

Breakdown

In the country's agriculture makeup, the 'important crop' sub section has a 23.55% share, however, it declined by 7.18%, taking down overall crop production with it.

Cotton production - part of the important crop category - showed the largest decline of 27.83%. Other important crops also failed to impress as rice declined by 2.74% and maize production slid down by 0.35%.

However, wheat production increased slightly to 25.48 million tons in 2016 compared to 25.09 million tons in 2015, showing a rise of 1.6%.

Additionally, sugarcane production also witnessed a positive growth 4.22%.

The category of other crops that comprises 11.36% of the total agriculture share declined by 0.31% during fiscal year 2015-16, against a positive growth of 3.09% during the same period last year.

The negative number is primarily due to a decline in the production of pulses, fruits and oilseeds of 12.49%, 2.48% and 9.56%, respectively.

With a massive drop in cotton production this year it was understandable that cotton ginning - having a share of 2.32% in agriculture - also suffered a decline of 21.26% compared to 7.24% growth during the same period last year.




The survey shows that the livestock sector, with a contribution of 58.55% in the agriculture sector, recorded a positive growth of 3.63% during 2015-16 compared to 3.99% recorded last year.

Similarly, the fishing sector having contribution of 2.17% in agriculture recorded a growth of 3.25% compared to 5.75% recorded last year. Forestry sector having a contribution of 2.06% posted a growth of 8.84% this year as compared to the negative growth of 10.43% last year.

Gram production decreased to 3.1 million tons during 2015-16 as compared to 3.7 million tons in the previous year showing a decrease of 17.7%.

Published in The Express Tribune, June 3rd, 2016.

Like Business on Facebook, follow @TribuneBiz on Twitter to stay informed and join in the conversation.