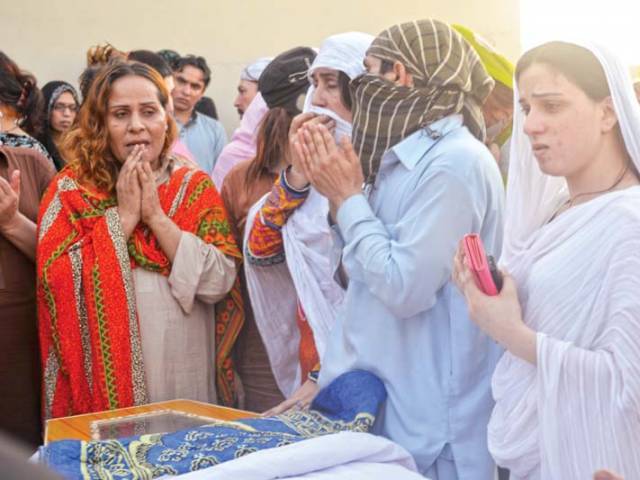 ---
PESHAWAR: Alesha, a transgender activist who was killed last week, was shifted five times to different wards and subjected to discrimination at Lady Reading Hospital (LRH).

This was stated in documents available with the health department, a copy of which is available with The Express Tribune.

Is there a ward for human beings as well?

The fact-finding committee, probing the negligence and mistreatment meted out to Alesha, submitted its report but with a 10-page dissenting note from Additional Health Secretary Motasim Billah, the only non-LRH member of the five-member committee. Billah did not agree with the outcome of the report and demanded a complete medical and administrative audit of LRH.

'End discrimination against transgender people'

Flouting procedure

Even the doctors, who were treating her, did not follow procedures and removed pellets from her body after 48-hours causing severe loss of blood and ultimately her death.

According to the documents, Alesha was brought into LRH and was treated in the accident and emergency room.  She was treated by two medical officers –Dr Syed Anwar and Dr Gulab Noor. Dr Javed, who was actually on duty, was not present. There was no designated medical consultant for the midnight shift.

Alesha's demise causes uproar in Peshawar

Blame game

In his dissenting note, Billah said LRH Director Amir Ghafoor did not provide accurate information about the presence of the doctor on duty. To make matters worse, the director left the country for four days without issuing a notification of who would have the additional charge.

The report also reveals Dr Ahsan and Dr Ibrahim performed Alesha's initial surgery without conducting any abdominal X-ray or exploratory laparotomy.

Dr Ehsan visited Alesha on May 24 and removed the dressing from her wounds. During the course, she began to bleed and ultimately went into a state of shock. She was shifted to the operation theatre and when operated "multiple pellets were found embedded in her intestine".

"Dr Ahsan and Dr Ibrahim 'seemed' to be responsible for professional negligence" the report added.

Testimonies of the people involved showed the patient was shifted from ward to ward.

Alesha should not have died

Raising doubts

"The patient was shifted to the orthopaedic ward without any official note or justification," the report added. "How [can] a patient with abdominal injuries be sent to orthopedic ward?"

The documents further stated, "This requires special investigation. [Although she had] a side room, the patient was treated in a male orthopaedic ward."

As per the document, the patient was moved around five times through different wards in a span of four days.

Murder most foul: Wounded transgender person dies at LRH

The in-patient manager, who was supposed to provide a private room at Bolton Block, allotted a room which was in a deplorable state. The patient was also kept waiting on a stretcher outside the Bolton Block for hours.

Minister for Health Shahram Tarakai has ordered the formation of a team based on the recommendations of the additional health secretary.

Published in The Express Tribune, June 3rd, 2016.
COMMENTS
Comments are moderated and generally will be posted if they are on-topic and not abusive.
For more information, please see our Comments FAQ