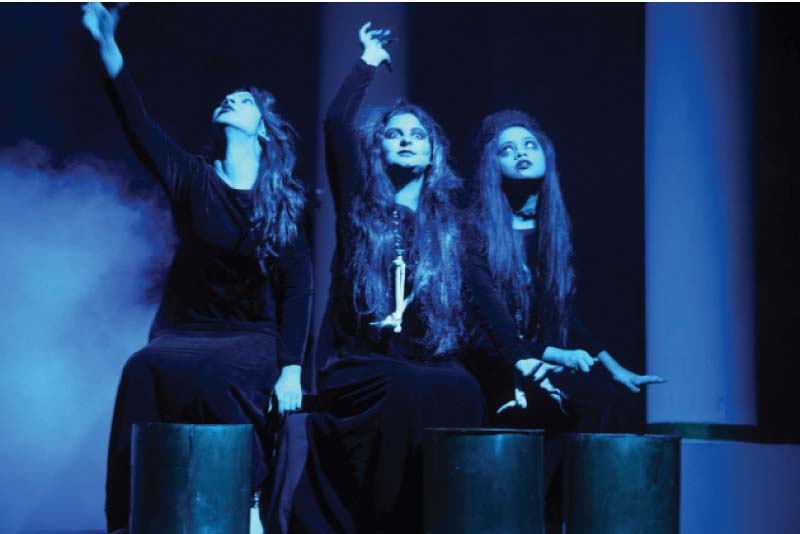 ---
LAHORE: Raees, Government College University Dramatics Club's (GCDC) adaptation of Shakespeare's Macbeth, received much acclaim from the audience, veteran theatre actors, writers and drama instructors. The play was presented to mark 400 years of Shakespeare.

The performance was an hour and fifty minutes long. The script, originally translated by Syed Qasim Mehmood, was abridged but managed to retain most of the plot. The play was directed by GCDC former president Salman Bhatti. He was assisted by Sameer Ahmed, Atif Yaqub, Ali Usman Bajwa and Ahmed Dar. The setting and names of the characters were localised and the protagonist of the play was named Raees.

The set was minimalist – silver-coloured pillars and black curtains for the backdrop and an old-fashioned heavy wooden chair for the throne. Raeesa Fatima, the costumes in-charge, had tried to create a look that fused eastern and western garb. The characters were dressed in flowing robes.

Shakespeare's Macbeth was first staged in 1606. It is the story of a Scottish general who is prophesied to become the king. At his wife's prodding, Macbeth attempts to fulfil the prophecy by murdering the king. One crime leads to another. Macbeth's reign of terror eventually comes to an end as a bizarre prophesy about his death comes true.

In GCDC's adaptation, Raees was performed by Talha Akhter. His conniving wife, Zamurad, who becomes mentally addled following the series of crimes, was performed by Taban Tazmin. Dilawar (Banquo) was performed by Abubakar Arshad. The famous witches of Macbeth were played by Jabin, Mariam Naqvi and Aisha Rauf. Shah-i-Faras (Duncan) was performed by Hamza Ghayur Akhter. Harkara was played by Mehran Potter. Momin Khalid and Ahmed played the king's sons. Muzammil Shabbir and Jazib Akram played the noblemen at king's court. Kashaf Fatima and Muhammad Ata played the mother and child killed by Raees's henchmen. The two henchmen were played by GCDC president Muhammad Munib and Afaq Imran.  Mushtaq (Macduff) got much applause from the audience for the scene in which he avenges the murder of his family, in a choreographed fight scene.

Commenting on why the GCDC had chosen to present an adaptation of Macbeth, Sameer Ahmed, a drama instructor at the English department and adviser to the GCDC, said, "I could give you a number of reasons. They say Shakespeare is for all ages and races. This means that the plays can be staged in any setting and in any language and can still retain the essence of Shakespearean drama. When you modernise Shakespeare with experiments like this, it makes the performance much more accessible to an audience."

Director Salman Bhatti said theatres all over the world have been celebrating 400 years of Shakespeare. "We wanted to participate. Only a fraction of our population speaks English and even fewer understand the 17th century English language Shakespeare wrote in. We had to make him comprehensible to our audience. For that we had to localise the setting and transform it into a cultural idiom."

GCU Vice Chancellor Hassan Amir Shah appreciated the acting, stagecraft, lighting, costumes and production and announced that from now on, the GCDC would put up two plays a year. "You have made the university proud again."

Several writers, actors and directors attended the performance over three days.

Actor Firdaus Jamal lauded the performers and said, "These students have more talent than several professional TV actors out there." He said that he felt honoured to have been invited to the play and praised the timing, dialogue delivery skills, gestures and expressions of the actors.

Madiha Gauhar said she had seen many performances of Macbeth in Pakistan and abroad, but GCDC's version was the best she had ever seen. She invited the GCDC to perform Raees under the auspices of Ajoka Theatre at Alhamra Cultural Complex.

Novelist Mirza Ather Baig appreciated the performance and said, "Critics have said that there are a thousand ways of doing Shakespeare. Today, the GCDC has shown that there are a thousand."

Actor Noor-ul-Hassan said most theatre companies tended to stage shows using ribaldry and relied heavily on Bollywood songs. "The GCDC deserves full credit for producing quality theatre."

Writer Bano Qudsia congratulated the GCDC. She said that they had put up a wonderful and thought-provoking adaptation of Shakespeare.

Alhamra Arts Council Board of Governors chairman Kamran Lashari said he was greatly impressed by the production standards and invited the GCDC to perform at Alhamra Cultural Complex all year round. "From this day on, Alhamra belongs to the GCDC, just as Bokhari Auditorium," he said.

Published in The Express Tribune, May 31st, 2016.