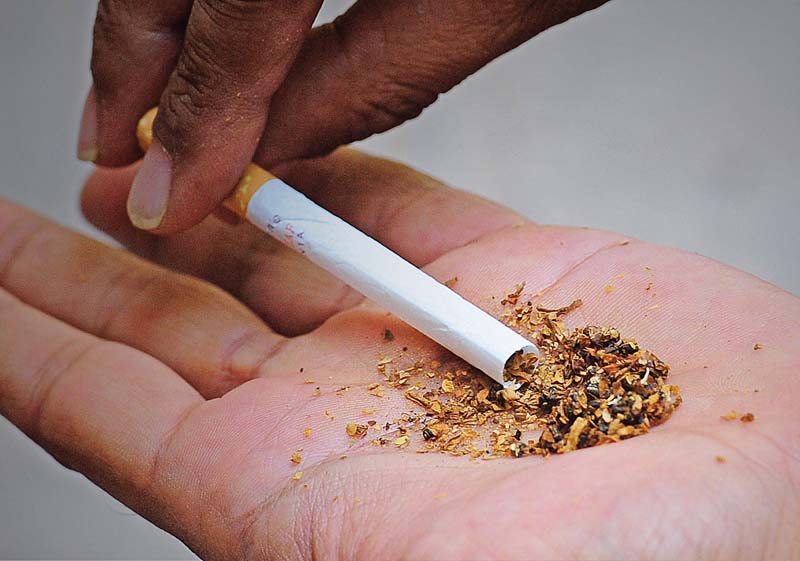 ---
KARACHI: For any outsider to the metropolis, the rampant use of chewable tobacco comes as an expected shock. For locals though, it is a part of life. Be it a rickshaw driver, mechanic or almost anyone from any profession in the city, they all have in common their almost-sealed mouths, mumbled speech and decadent teeth - a result of chewing various forms of tobacco products.

Karachi is plagued with the habit of tobacco consumption, both through smoking and chewables. As per a study conducted in collaboration with All Pakistan Women Association and Aga Khan University (AKU), chewable tobacco use has risen to 42.2% while smoking tobacco use has gone up to 18% as compared to figures in the 2012 National Housing Survey.

No Tobacco Day: Campaign sought to discourage smoking

According to the latest study, the most alarming aspect is the consumption of both smoking and chewable tobacco among women, which was previously quite negligible.

Orangi's women

While there have not been many studies with respect to tobacco consumption among women, a cross-sectional survey of a squatter settlement like Orangi Town tells a frightening story.

Hamida* is an 18 year-old from the locality who was recently operated on to have her tongue removed. The girl had been consuming chewable tobacco for the last 10 years and thus developed oral cancer to the extent that the only solution was to get her tongue removed. She has now lost the ability to talk.




The survey, in which 16,987 people participated, revealed that 53.82 % of the households had at least one family member using tobacco in some form. The research goes on to indicate that the most common form of tobacco use among women is chewable at around 42.2% while 18% prefer to smoke. "It's an alarming figure for women who are mostly married and stay at home," said Dr Javaid Khan, chair of the National Alliance for Tobacco Control and a consultant chest physician at AKU. The highest percentage of consumption is among women who fall in the age bracket of 30 to 45 and are housewives.

No Tobacco Day: Campaign sought to discourage smoking

While Dr Javaid blames easy access of such products for their extensive use, Dr Nosheen Iqbal, consultant pulmonary at AKU, blames peer pressure and the myth of tobacco as a stress relief. "Stress and everyday anxiety along with the need to do some activity are some of the reasons due to which women are inclined towards the use of chewable tobacco," she said.

University of Karachi psychology department assistant professor Anila Mukhtar, on the other hand, attributes lack of awareness, especially in the context of Orangi, as a reason.

"With working women it can be assumed that they go out and interact, this increases the possibility of awareness and information in comparison to stay-at-home women," she said, adding that there might be possibilities of low-esteem issues among these women who tend to compensate their lack of confidence through consumption of such products.

World No Tobacco Day: Going up in smoke

While tobacco in any form can have an adverse effect on maternal health leading to miscarriages and complications during child birth, with chewable tobacco there are high chances of anaemia. "The presence of carcinogens leads to fibrosis in the mouth that makes the simple act of opening your mouth very difficult," said Dr Nosheen. "In women, such cases are increasing with time," she added.

Published in The Express Tribune, May 31st, 2016.