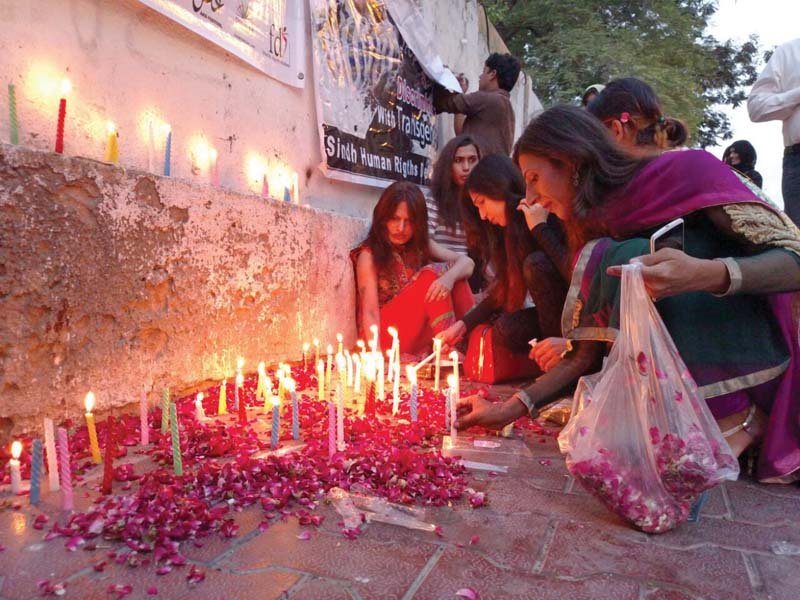 ---
While activists in Peshawar were deprived of their right to mourn the death of Alisha through a candlelight vigil on Friday, those in Karachi chose to do it on their behalf a day after.

Amid taunts and inappropriate, mocking gestures  of passers-by, transgender rights activists and supporters gathered outside the Karachi Press Club on Saturday evening to mourn the death of Alisha, who died at a hospital in Peshawar after an alleged targeted attack.

Alesha's demise causes uproar in Peshawar

Around 25 people had set up a candlelight vigil on a footpath outside the club. The event was organised by transgender rights activist Kami Chaudhry and human rights lawyer Ali Palh.

Qamar Bharoocha Bana, a photographer, lamented that there was barely any representation from non-governmental organisations. "Civil society should have been here and NGOs should have been here," she said.

"Alisha has not died of injuries and wounds, she has died of discrimination," said Palh. "We call [transgenders] different derogatory names but to me these are our brothers and sisters. Talking about the vigil that was delayed in Peshawar due to security threats, Palh said this movement for transgender rights, which started from Peshawar and spread all across the country, has sent out a 'dangerous message to the extremists'.

Talking to The Express Tribune, Chaudhry expressed doubt about the alleged killer who has been arrested in Peshawar, suggesting that it might as well be one of the government's tactics to suppress the issue.




"I'm even upset at Alisha's own organisation who were busy updating their Facebook page," she said, questioning why, instead of putting up Alisha's pictures on their page, they did not take her to a better medical facility.

'End discrimination against transgender people'

She said a 'no-discrimination bill' should be introduced, which allows provisions of jobs in health, education and other sectors for members of the transgender community.

"All of this is just routine, it has gained prominence for the first time," said Sarah Gill, a focal person for the transgender community in Sindh, referring to the recent killing. She talked about how it was not just the attitudes of the staff at Lady Reading Hospital, Peshawar that was inhumane towards Alisha, but also the general public present inside the facility. "We should condemn Alisha's killing not because she was a transgender, but because she was a human."

Moorat Interactive Society president Zainy Farhan pointed out that when women are not safe and given their due rights in this society, how can the transgender community expect anything. "The taunting smile that spreads across on faces when people see us, it just breaks our hearts," she said. She cited the example of a transgender, named Sahil, who was killed in Karachi three years ago and the perpetrators have yet to be brought to justice.

Zain Awan, a visitor, lamented at the number of people present at the event. "Facebook jihadi sub hain, Twitter jihadi sub hain [Everyone is a Facebook or Twitter warrior]," he said. "But when it comes to actual representation, barely anyone shows up."



Published in The Express Tribune, May 30th, 2016.